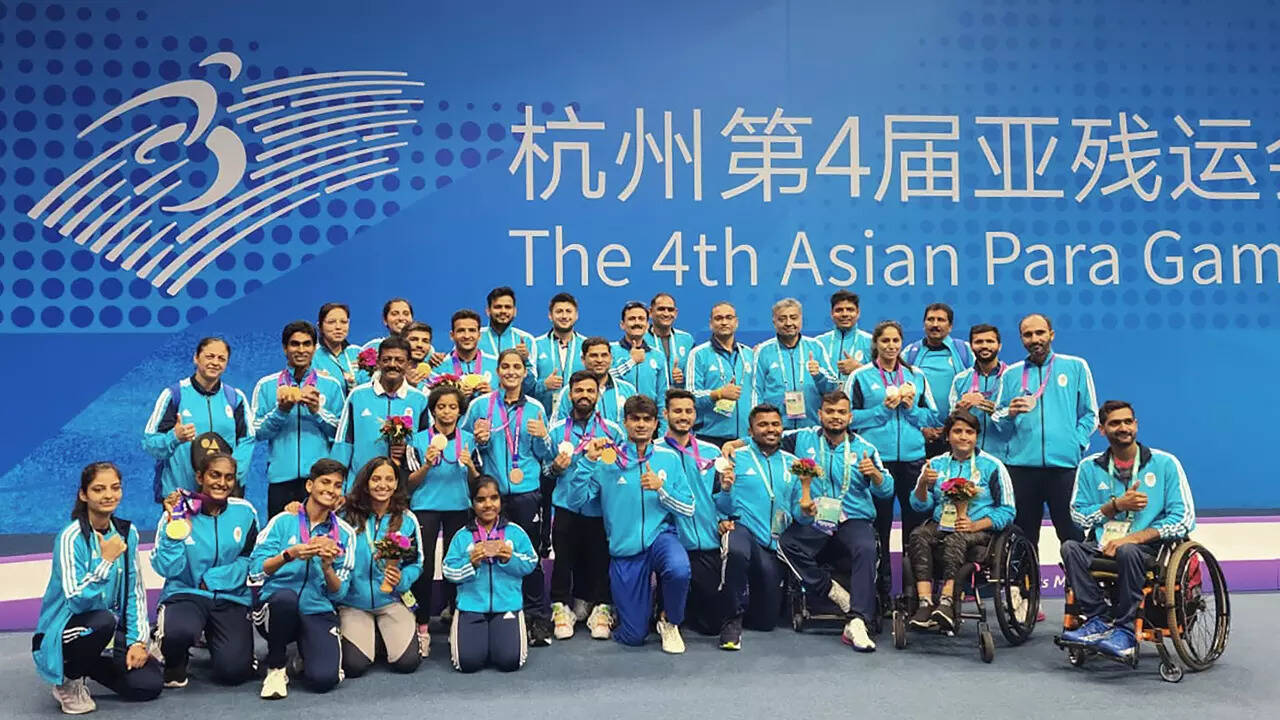 NEW DELHI: On Saturday, Indian para athletes made history by finishing their Hangzhou Asian Para Games campaign with a record 111 medals, the most for the country in any major international multi-sport event.
The Indian para athletes won four more medals than the able-bodied athletes, with 29 gold, 31 silver, and 51 bronze in the Hangzhou Asian Games, which took place from September 23 to October 8.
India finished fifth in the medal count, trailing China (521 medals: 214 gold, 167 silver, 140 bronze), Iran (44 gold, 46 silver, 41 bronze), Japan (42, 49, 59), and Korea (30, 33, 40).
The first Para Asian Games were held in Guangzhou, China, in 2010, with India finishing 15th with 14 medals, including one gold.
India finished 15th and eighth in the 2014 and 2018 tournaments, respectively.
The only time India had won 100 medals in a major international multi-sport event (Olympics, Asian Games, and Commonwealth Games) was at the 2010 Delhi Commonwealth Games.
"We have made history, our para athletes have made the country proud. We will win more medals in the Paris Paralympics than in Tokyo," Paralympic Committee of India president Deepa Malik told PTI.
"However, it is not a surprise for us. We expected between 110 to 115 medals and we ended at 111, the auspicious number (Angel Number)," she added.
Asian Para Games Day 6
On Thursday, India surpassed the previous best Asian Para Games tally of 72 medals (15 gold, 24 silver, 33 bronze) set in 2018.
India earned 39 more medals than in 2018, with athletics accounting for 55 (18 gold, 17 silver, and 20) of India's total of 111.
With 21, including four gold medals, Indian shuttlers came in second. Chess and archery each received eight medals, while shooting received six.
On the final day, India collected 12 medals, including four gold. Chess won seven medals, athletics won four, and rowing won one.
Neeraj Yadav began the day with a gold medal in men's javelin throw F55, setting a Games record of 33.69m. In the same event, compatriot Tek Chand won bronze with a personal best of 30.36m.
Dilip Mahadu Gaviot won the men's 400m T47 competition in 49.48 seconds, adding another gold medal to his collection.
Pooja then won the final athletics medal, a bronze medal in the women's 1500m T20 race in 5:38.81s.
Chess players saved the best for last with a seven-medal assault on the last day, including two gold medals.
Satish Inani Darpan won gold in the men's individual rapid VI-B1 event, while Pradhan Kumar Soundarya and Ashwinbhai Kanchanbhai Makwana took silver and bronze, respectively. The trio also won the team gold medal.
Kishan Gangoli finished third in the men's individual rapid VI-B2/B3 event. In the same event, Gangoli, Somendra, and Aryan Balchandra Joshi won bronze as a team.
In the women's fast VI-B1 team event, Vruthi Saganlal Jain, Himanshi Bhaveshkumar Rathi, and Sanskruti Vikas More won bronze.
On Saturday, Anita and Konganapalle Narayana earned a silver medal in the PR3 mixed double sculls event, giving India its lone medal in rowing.
India sent 313 competitors to the Hangzhou Para Asian Games, the most in any edition, including 51 Tokyo Paralympians.
India competed in 17 of the 22 sports, including rowing, canoeing, lawn bowl, taekwondo, and blind football for the first time.
The Hangzhou Asian Para Games include nearly 4,000 participants from 43 countries participating in 566 gold-medal events across 22 sports.
The Hangzhou Asian Para Games were initially slated for October 9-15, 2022, but were pushed back a year because of the COVID-19 epidemic.
(With inputs from PTI)