A Hadid sister recently hit the runway at the Copenhagen Fashion Week — and it wasn't Bella or Gigi.
Alana Hadid, the older half-sister of the two famous models, made her runway debut opening the Saks Potts Spring Summer 2024 show in Denmark on Monday. She wore a macramé bra with a tan blazer and a blue sequined skirt over blue jeans.
In an Instagram post on Monday, Alana, the co-founder of Los Angeles-based clothing brand La Detresse, celebrated her big moment with a slideshow of photos and videos from the event.
"Core memory made in Denmark with @sakspotts my first runway!" she captioned the post.
The La Destresse co-founder is the daughter of real estate developer Mohamed Hadid. He had his daughters Alana and Marielle Hadid with his first wife, interior designer Mary Butler. The real estate developer shares Bella, Gigi and son Anwar Hadid with former model and reality TV star Yolanda Hadid.
Marielle celebrated her sister's new runway skills in the comments section of Alana's Instagram post on Monday, writing, "Turn 40 become runway model."
Alana had celebrated her 40th birthday on Instagram last month, writing in a caption of a post that she felt "so blessed and loved and cherished."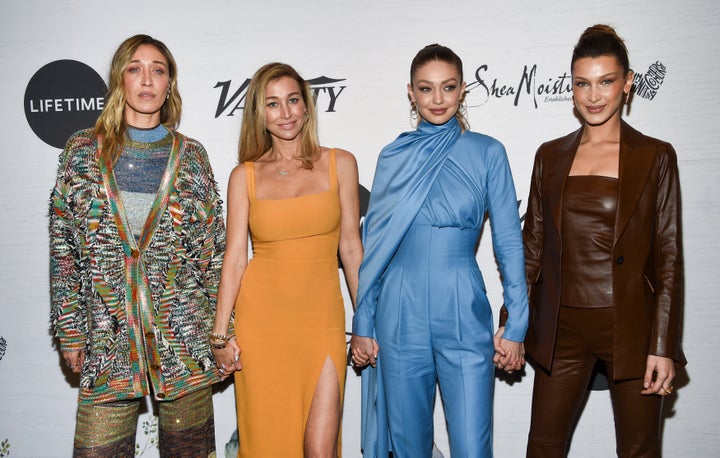 Gigi and Bella have made a name for themselves in the modeling world over the years, walking countless fashion runways and appearing on numerous magazine covers.
Bella, who has publicly discussed her struggles with Lyme disease on several occasions, recently shared an update on her health after Gigi announced on Aug. 1 that she had "just finished a long and intense treatment" for the tick-borne disease. Gigi said that Bella would make "her comeback" in modeling when she feels ready.
"The little me that suffered would be so proud of grown me for not giving up on myself," Bella wrote on Instagram on Sunday. "Thankful to my mommy for keeping all of my medical records, sticking by me, never leaving my side, protecting, supporting, but most of all, believing me through all of this."
She later said that she was "finally healthy."
"I'll be back when I'm ready," she added.