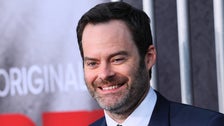 Bill Hader discovered that he "can't eat sweets" as much as he used to after gaining 25 pounds while filming the final season of "Barry."
Speaking to The Hollywood Reporter, the comedian, who co-created the dark comedy Max series, gushed about his "rewarding" growth over the course of the show's four seasons. He pointed out that he also learned much more about his dietary needs after packing on the pounds on set.
"To know that I've grown as a filmmaker is really rewarding," Hader told the outlet in an interview before the SAG-AFTRA strike began. "But I also know that I'm 45 and I put on weight way faster than I used to. That's what I really learned, that I'm suddenly 25 pounds overweight. How the hell'd that happen? I've learned I can't eat sweets the way I used to."
Hader went on to joke about the time a costume designer suggested he wear "bigger clothes" after noticing his increasing weight before the show wrapped up in May.
"I think it was toward the end of the season that the costume designer was like, 'I think you need to wear bigger clothes. You're wearing a large, and, well…'" Hader recalled. "We've got to go up a size, or three. Great!"
"I put on…between episodes three and four…I put on 25 pounds from shear stress eating. None of that is for the character. That is purely a guy during all the episodes and writing everything, and just stress eating like crazy. I'm in the process of trying to lose it."
When asked if he trained for the action scenes in the series, Hader admitted that he never trains, adding, "I eat a lot of doughnuts and stress."
The Saturday Night Live alum opened up about struggling with his body image in the past, sharing with The Independent that it's "no fun" to watch yourself act on screen.
"I don't like the way I sound. I don't like the way I look. It's just embarrassing. But I'll be 45 in two months, so the weight thing is more of a health thing now. You go to a doctor and they say, 'At this age and height, you should weigh this,'" he told the outlet.
But according to him, starring on SNL prompted him to "start exercising and jogging" so he could look his best on camera. However, he quipped that he still "ate like s**t" while starring in the long-running sketch comedy show.
"Barry" has earned 11 Emmy nods this year, including four for Hader, who stars as a hitman-turned-actor who finds a new life on the LA theater scene.
All four seasons of "Barry" are streaming on Max.