It was the pause heard 'round the theater world.
When Center Theatre Group on Thursday announced that it was indefinitely pausing shows at the Mark Taper Forum — the creative beating heart of one of the country's largest regional companies — a sense of deep sadness and acute anxiety resonated with theater leaders across the country.
Center Theatre Group might be calling this a "pause," many said, but that word is a euphemism for a closure — what the entire theater ecosystem had to endure when the COVID shutdowns hit in March 2020. The hard lesson learned — during closures that in some cases lasted close to two years — is that audiences won't quickly return in nearly the numbers needed to make budgets.
The result is a painful, and unprecedented, contraction of regional theaters nationwide. Vibrant, essential leaders of the industry including New York's Public Theater, the Oregon Shakespeare Festival, Dallas Theater Center and San Francisco's American Conservatory Theater, among many others, are experiencing various levels of pain — fighting to keep doors open despite dwindling ticket sales, increased production costs and hesitant, recession-wary donors. The result: drastic cuts to programming, layoffs, candid pleas to subscribers about an industry-wide emergency and, in L.A., the indefinite shutdown of what for decades has been the city's most prominent and important home for drama.
Meghan Pressman is the chief executive and managing director of Center Theatre Group, which operates the Taper and the Ahmanson in downtown L.A. as well as the Kirk Douglas Theatre in Culver City. She said she had been crunching numbers and making extremely difficult choices, keenly aware of the controversy that would arise from closing the Taper before the world premiere of Larissa FastHorse's play "Fake It Until You Make It."
FastHorse would have been the first Native American writer to have a main stage production at the Taper, and the postponement abruptly ends a season programmed to feature plays written by female-identifying or nonbinary playwrights, the majority of whom were artists of color.
The Taper canceled, rather than postponed, a touring production of Lauren Yee's musical "Cambodian Rock Band." Both FastHorse and people close to Yee expressed profound disappointment on social media, and some theater leaders said confidentially that Center Theatre Group should have called on the financial heft of its well-connected board to fund the completion of an all-important season for female and BIPOC writers.
Pressman said her company simply ran out of options and had to move quickly to avert greater disaster.
"This is not related to that programming choice of which I am still so proud," Pressman said. "This moment would have happened because of the environment we're in."
One theater leader said Center Theatre Group will not regain its status within the industry until it makes good on the promise to stage FastHorse's play. Pressman said that is the absolute goal.
"That show deserves an audience — a big audience — and the audiences that it deserves are not back," she said.
Center Theatre Group's budget gap is $12 million to $13 million, Pressman said. The company's annual operating budget varies between $55 million and $70 million, depending on the season. Corporate contributions and individual donations — which constitute 20% to 30% of the budget — are down about one-fifth compared with pre-pandemic giving. Ticket sales, which account for nearly 70% of the budget, are only about 70% of what they were in 2019 across all three of CTG's stages.
Playwright Jeremy O. Harris, whose groundbreaking "Slave Play" reopened the Taper after nearly two years of pandemic closures, expressed sympathy for CTG's leaders and noted that the theater industry was in trouble long before COVID-19. He singled out the subscriber model — in which theaters rely on a core base of fans to subsidize shows before they are staged — as a system of support that failed years ago.
Harris also said that in other cities, large theater companies' obsession with funding expensive building projects was problematic and caused artistry to play second fiddle to the bottom line, making companies increasingly dependent on the whims of wealthy, often out-of-touch board members.
"The worst thing that could happen is for people to look at some of the really exciting social movements inside of the theater in the last three years and point to those as the issue, when actually the issue is deeper — it's from 20 to 30 years of bad programming," Harris said. "There hasn't been enough innovation or inquiry around how to inspire a new generation of people to go to these spaces, and to find community inside of a theater in their town."
If theaters are not careful, said Harris, artists will start making their own spaces out of necessity. This brain drain would exacerbate an already troubling trend of theater artists — many of whom are independent and freelance — leaving the field entirely because of closures, layoffs and financial insecurity, noted Teresa Eyring, executive director and chief executive of the Theatre Communications Group, a national network of more than 500 member theaters.
"Budgeting for Uncertainty," a Theatre Communications Group survey of 99 member theaters this year, found that 62% were budgeting for a deficit, up from 30% in 2022 and 10% in 2021.
"There's just this sense of crisis that needs more time to be resolved than many companies have to resolve it," Eyring said. "I think it gives us all pause when we hear of a company like Center Theatre Group having to postpone or cancel one of its entire facilities."
The pause at the Taper is prompting the most sober of questions: Is this just the first domino to fall?
Diane Yu, chair of the board for the Oregon Shakespeare Festival, said she was shaken by the Taper news. Her company has struggled mightily to recover after the pandemic — and also after wildfires swept the region and made performances on its outdoor stages impossible.
With three theaters and almost 1,000 seats to sell, the Oregon Shakespeare Festival operates on a budget that hovers around $40 million. Between March and June 2020, the company laid off 90% of its 500-person full-time and seasonal staff; it's still operating with only about half of its pre-pandemic staffing. The company has cut back its annual programming from 10 shows to only five. Those productions, however, are selling so Yu said she is "cautiously optimistic."
"It took us years to get to this point, and it's going to take us years to get out," said Yu, referring to the robust fundraising the company launched in May, asking for $2.5 million in donations to save its season.
Theaters including Oregon Shakespeare need to "find a way forward that's going to be more sustainable and more responsive to the environment that we now face," she said.
Oskar Eustis, artistic director of the Public Theater, said companies had spent the last three years improvising, hoping for a return to normal.
"And this spring, I think all of us are going, 'They're not returning to the old normal.' We don't know what's going to happen exactly. But we need to stop improvising and hoping for the best. And we need to actually make solid plans that we know will sustain the organization in the future," Eustis said. "And the Taper's announcement is part of that wave of knowledge."
Last month, Eustis made the "agonizing" decision that the Public would not produce its Under the Radar festival next year, and it laid off the festival's producer, Mark Russell. Since 2005, Under the Radar had been home to some of theater's most experimental work, and its loss has been lamented internationally.
At this moment, the Public is not in peril, said Eustis. "The reason we're not teetering is that we're contracting in ways that are unbelievably painful."
The operating budget last year was closer to $50 million, down from about $60 million, Eustis said. Staffing is down 10%, but at this moment, the company is hopeful that it will end its fiscal year Aug. 30 with a "de minimis deficit."
The emptying out of urban cores as workers went remote, and the rise of streaming entertainment at home, are affecting live theaters in ways that nobody quite imagined, said Kevin Moriarty, executive director of Dallas Theater Center.
The company anchors Dallas' 20-block Arts District and is home to two theaters that drew nearly 100,000 audience members annually before the pandemic. The company won a regional Tony Award in 2017. Recently, however, subscriptions dwindled by 60% and an operating budget of close to $11 million shrank to about $8 million, Moriarty said. In April, Dallas Theater Center announced it was laying off an undisclosed number of staff — a move that Moriarty called "incredibly painful."
The belt-tightening has worked and the company is heading into a new season debt-free, he said.
American Conservatory Theater in San Francisco is limiting its programming to reduce budget pressure, said A.C.T. Executive director Jennifer Bielstein. Eight mainstage productions have become six. Pre-COVID the company had about 130 full-time staff members; now it has about 60. The budget has shrunk from $27.5 million to $22 million.
"When a theater has to announce that they can't do as much work, that also means less work for artists, and we exist to work with artists, to invest in artists, and to deliver this work to our communities," Bielstein said, adding that as a field, theater needs significant continued investment. "So overall it's certainly heartbreaking."
"Our businesses were among the first to be closed down and the last to be allowed to reopen," she said.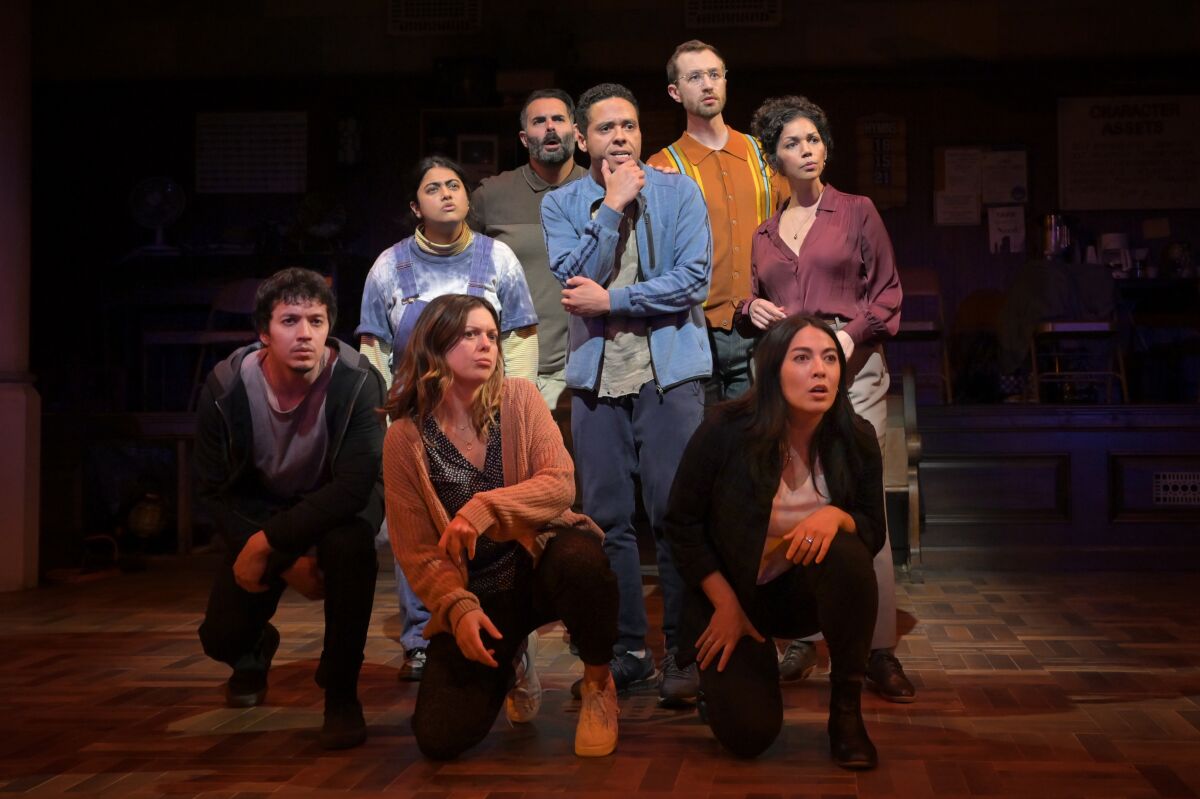 Nearby Berkeley Repertory Theatre is an outlier among regional companies, said managing director Tom Parrish. Berkeley Rep has increased its budget to nearly $24 million from about $19 million, but Parrish noted that the theater's cost of operating is about 25% higher than it was in 2019. He also said Berkeley Rep is one of the last to still require masks, a fact that he believed kept much of his audience feeling safe and able to come back.
Parrish worries that "we're gonna see a lot of stories like what happened in Los Angeles."
For now, Gil Cates Jr., executive director of Geffen Playhouse in Westwood, said his playhouse is relatively stable. It is focusing on subtle shifts, such as programming four shows instead of five, and eliminating performances on Tuesday to give artists a two-day break, resulting in a schedule with seven shows weekly rather than eight.
"I think seven shows will be the new eight shows in about two years," Cates said.
Danny Feldman, the artistic director of Pasadena Playhouse, which won a regional Tony Award this month, has been sounding an alarm for well over a year.
"CTG isn't out of the blue and it's not unique," said Feldman. "But it's a bellwether. The extraordinary support that lifted us through the pandemic, both from government and foundations and individuals, was a bridge to the other side. But the other side isn't so great for all the reasons CTG listed in its statement."
Even with all the good news coming out of Pasadena Playhouse — and the success of its recent Stephen Sondheim festival — the company is still likely facing a "very large hole" in its budget, he said, declining to provide specifics. Theaters are resorting to cost-saving measures because they are "being realistic about audience attendance."
"We have to show up in different ways, and in more robust ways than we currently are," Feldman said. "I'm optimistic. I hope this shocking and really sad and troubling news activates folks — activates them for CTG, and activates them for all theaters. As painful as it seems, we all need to lift each other up."
Many leaders agreed that one thing has become painfully clear: Regional theaters need to dramatically shift the way they do business if they are to rise from the smoldering ashes of the pandemic closures.
"It's not like the audience pauses with you. They go away," said playwright Luis Alfaro. "So there's gonna have to be a reinvention because you have to get those people back."
As an associate artistic director at CTG until his abrupt departure late last year, Alfaro was part of a cohort of five leaders who helped to guide the company's vision after former artistic director Michael Ritchie left the job in 2020 and before the newly appointed artistic director, Snehal Desai, takes the reins in August.
Desai is CTG's first leader of color, and many people, including Alfaro, expressed dismay that the momentous development comes at a time of such crisis.
"It's really depressing to see a person of color, a queer person, take this job at this moment," Alfaro said. "It's not like it's being handed over with all the bells and whistles. He's coming into a company that he is, in some ways, expected to save a bit. And this is happening all over the country."
Chay Yew, the former artistic director of Chicago's Victory Gardens, noted that CTG is taking a big leap of faith with the temporary shutdown of the Taper. He said that most theater companies were making their seasons smaller, not skipping an entire season, or more.
"I think it might be hard for it to jump-start again," Yew said. "Some people don't come back to the theater. So it's a gamble, and maybe that's CTGs strategy, and unfortunately it's Snehal's housewarming gift. I don't think it's very fair. I think it puts him at a disadvantage."
Theater leaders said murmurs of a pause at the Taper have been in the air for the last six months. Admiration for Desai runs high, as do hopes that he will prove to be the visionary leader that the company needs.
The company, industry watchers said, needs to once again push boundaries, stir audiences and launch careers and legacies like it did under founding artistic director Gordon Davidson — under whom Tony Kushner found a home for "Angels in America," and Anna Deavere Smith debuted "Twilight: Los Angeles, 1992."
"Everyone's upset because of what the Taper has done and what its promise is," Yew said. "But the theater is going through a hard time and, of course, we all say, 'Well, do something about it.' But we can say that so easily from the outside."