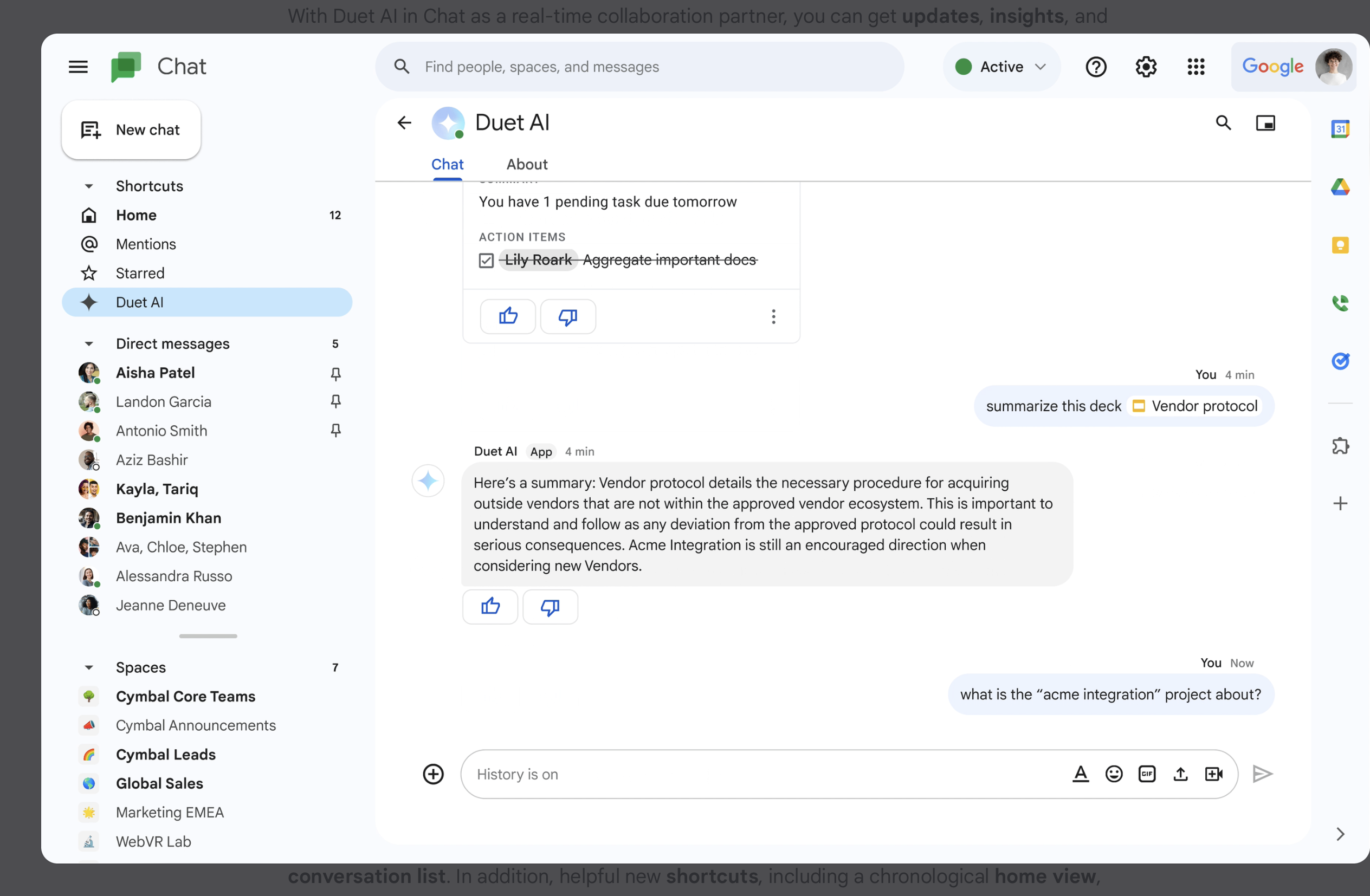 Over the years, Google has tinkered quite a bit with the Chat app. Earlier, it was the Hangouts app, which was merged into the Chat app. Then with the advent of video calls, Google integrated Meet in the Chat app. And now the chat app is getting a revamp, including some AI-powered features. In a blog post, Vamsee Jasti, director, product management, Google Chat detailed all the new features coming to Google Chat app. "To help customers make the most of Google's industry leading AI, today we're announcing an enhanced Chat experience with powerful new features, including Duet AI in Google Chat," said Jasti.
Duet AI comes to Chat
Google is unleashing the power of AI within Google Chat. "We plan for Duet AI to answer complex queries by searching across your messages and files in Gmail and Drive, summarise documents shared in a space, and provide a recap of missed conversations," explained Jasti in the blog post.
Google is also adding Material 3 design language to Chat with updated colour palette, typography, and visual styling.
Furthermore, users will now see direct messages and spaces together in a unified conversation list. "In addition, helpful new shortcuts, including a chronological home view, @mentions, and starred conversations will make it easier to stay on top of the flow of communication," said Jasti.
Spaces to support more members
Google has also increased the membership limit of spaces. Earlier, spaces could have 50,000 members but now it will support up to 500,000 members.
Also, there's a new way to communicate in real-time for teams. Called huddles, it allows users to join audio and video conversations quicker than before. "With huddles, instead of jumping out of the conversation into a meeting, the meeting integrates directly and smoothly into the Chat experience," added Jasti.
Huddles will be available in customer preview by the end of the year.