Dry blood was visible on the elbow of Sherman Oaks Notre Dame High receiver Erik Puodziunas. Black rubber pellets stuck to his face after a fall on the all-weather turf field. His legs were filled with protective tape.
A sportswriter came up and asked a blunt question to Puodziunas, one of the top pitchers in Southern California who is holding a scholarship to play baseball at Michigan.
"Why are you playing football?"
Puodziunas didn't hesitate.
"I love it, man. I've been playing football since I was a kid," he said. "Freshman year I played tackle football for Notre Dame. I love these guys. I can't let them down. I'd do anything for them. It keeps me athletic, gives my arm a break and it's part of my family that I don't want to leave."
Few schools in Southern California have produced more elite multisport athletes than Notre Dame, topped by New York Yankees outfielder Giancarlo Stanton, who was an All-CIF selection in football, basketball and baseball during his senior year in 2006-07.
The football-baseball combination is particularly ingrained in Notre Dame lore, going back to Tim Foli, the No. 1 pick in the 1968 amateur baseball draft. He was offered a football scholarship to USC. Steve Cottrell replaced John Elway as quarterback at Stanford in 1983 and also pitched for the Cardinal in the College World Series.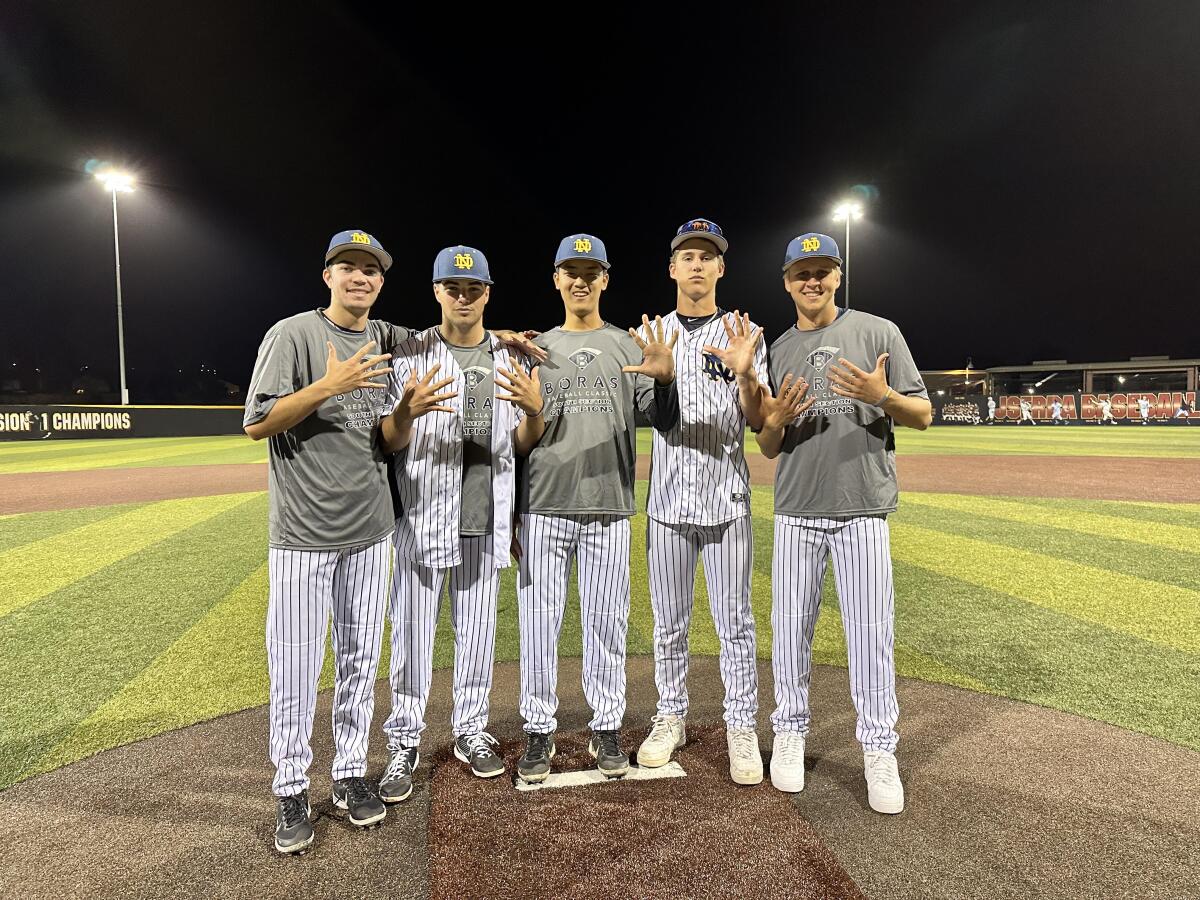 Former major leaguers Greg Goossen, Jorge Piedra, Brett Hayes, Bobby Hughes and Jack McDowell all played football at Notre Dame. Athletic director Alec Moss was All-CIF in football and baseball. Jon Brewster was an All-CIF quarterback in football and went on to play baseball for USC.
Puodziunas might be Notre Dame's best two-sport standout since Stanton, though linebacker-infielder JJ Muno, who went on to star at UC Santa Barbara in baseball and play in the minors after graduating in 2012, might disagree.
The 6-foot-4, 190-pound Puodziunas helped the Knights baseball team achieve a No. 1 ranking during the regular season last spring. The right-hander was an elite relief pitcher, going 4-0 with four saves while striking out 30 and giving up one run in 23 innings. He also has a 4.0 grade-point average.
In football, his toughness and leadership skills are invaluable for the 4-1 Knights. When quarterback Steele Pizzella had a pass intercepted for a second time last week against Westlake, the player who sat next to him on the bench to offer a pep talk was Puodziunas, who has 24 catches for 447 yards and six touchdowns.
"He's a coach on the field," offensive coordinator Jake Constantine said. "He holds people accountable. He's a blessing."
Puodziunas said Michigan always was his "dream school," so how did the Wolverines learn about him when he has no time to compete in summer baseball showcases because of football?
It turns out he pitched last winter after senior Justin Lee, now at UCLA, made an appearance in front of more than a dozen scouts against Servite.
"Some of them stayed," Puodziunas said. "They were impressed. They called their college coaching buddies."
Michigan recruiters followed up and now he can't wait to become a Wolverine. They even encouraged him to stick with football in high school.
"It's been my dream," he said of playing two sports. "It keeps my head clear. I have one life. I'm enjoying it. We all understand the risks."
Speaking of risks, Puodziunas went down with a possible shoulder injury in the end zone against Westlake. If baseball coach Tom Dill had been there, he might have turned away in anguish.
Puodziunas quickly got up to alleviate any concerns.
"I just popped my shoulder out," he said. "No problem. I popped it back in. I made sure it wasn't my pitching shoulder. When I was on the floor, I went, 'Wait.' I was checking. 'That's my left shoulder. We're all good.'"
Puodziunas said playing football has made pitching in tough situations easier. It helps explain why he is calm in bases-loaded jams and relaxed when he needs a strikeout to end an inning.
"When I look at it, pitching on the mound is nothing like running across the middle," he said. "Baseball is a cakewalk from that mentally."
Next up for Notre Dame is a Mission League opener in two weeks against unbeaten Sierra Canyon and former Knights quarterback Wyatt Becker.
"All I can say is it's going to be a fun game," said the 17-year-old Puodziunas, who continues to cherish every second of his high school sports experience as a two-sport athlete, including cuts, bruises and aches.