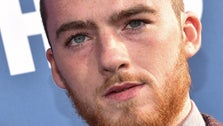 Max is celebrating Angus Cloud, the late "Euphoria" star, in a special way.
The streaming platform has added an in memoriam message to two episodes of the hit drama series to honor the beloved actor more than a week after his sudden death.
The tribute appears at the start of the show's pilot episode and the Season 2 premiere. It reads "In memory of Angus Cloud 1998 – 2023" alongside a black-and-white photo of the actor.
Cloud, a fan favorite who starred as drug dealer Fezco "Fez" O'Neill on the Emmy-winning show, died on July 31 at his family home in Oakland, California. He was 25.
"Friends, I want you all to know I appreciate your love for my family at this shattered time," Lisa Cloud wrote on Friday. "I also want you to know that although my son was in deep grief about his father's untimely death from mesothelioma, his last day was a joyful one."
She added: "He was reorganizing his room and placing items around the house with intent to stay a while in the home he loved. He spoke of his intent to help provide for his sisters at college, and also help his mom emotionally and financially."
His mother cleared the air about rumors that have been swirling following his death.
"We may find out that he overdosed accidentally and tragically, but it's abundantly clear that he did not intend to check out of this world," she said.
The star's "Euphoria" family left heartfelt tributes to Cloud in the days following his death, including his co-stars Zendaya, Sydney Sweeney, Maude Apatow and more.
"Words are not enough to describe the infinite beauty that is Angus (Conor). I'm so grateful I got the chance to know him in this life, to call him a brother, to see his warm kind eyes and bright smile, or hear his infectious cackle of a laugh," Zendaya, who is also an executive producer on the show, wrote on Instagram.
She added: "I'll cherish every moment. My heart is with his mother and family at this time and please be kind and patient as grief looks different for everyone."