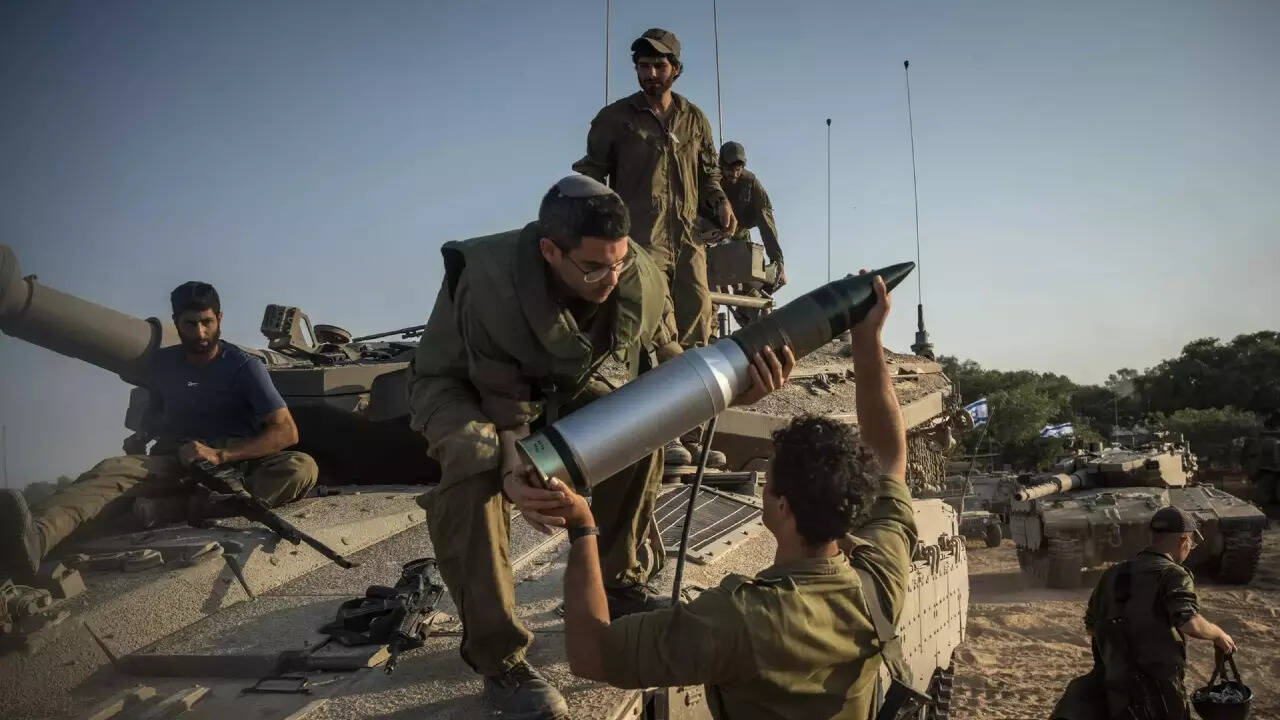 GAZA/JERUSALEM:
Israel
said its ground forces had pushed into
Gaza
overnight to attack
Hamas
targets as Israeli Prime Minister Benjamin Netanyahu said it was "preparing for a ground invasion" that could be one of several.
"I will not elaborate on when, how or how many," he said in a televised update to citizens on Wednesday evening.
The besieged Palestinian enclave is already reeling from almost three weeks of Israeli bombardment, which was triggered by a mass killing spree in southern Israel by the Iranian-backed Hamas militants who run Gaza.
Hamas has threatened to kill some of the more than 200 hostages it brought back to Gaza, of whom Israel says more than half hold foreign passports, from 25 countries.
Other Iranian-backed groups have since attempted attacks on Israel elsewhere in the region; Western leaders fear that a high death toll among Palestinian civilians, who have already been killed in large numbers by Israeli air strikes, could spark a wider war.
US President Joe Biden held a call with Netanyahu, discussing "ongoing efforts to locate and secure the release" of Americans believed held hostage in Gaza, the White House said overnight.
It said safe passage for foreigners wishing to leave Gaza, a continuous flow of aid into the narrow coastal strip, which is blockaded by Israel, and a pathway to permanent peace with the Palestinian people were also discussed.
"The President reiterated that Israel has every right and responsibility to defend its citizens from terrorism and to do so in a manner consistent with international humanitarian law," the White House said.
The comments reflect a balancing act over US support for Israel's actions after Biden was criticised for casting doubt on Palestinian casualty figures.
NETANYAHU SUGGESTS MORE THAN ONE GROUND INVASION PLANNED
Israeli army radio said the military had overnight staged its biggest incursion into northern Gaza in the current war against Hamas, which Israel has vowed to eliminate.
The military later released video on X showing armoured vehicles crossing the highly fortified barrier from Israel and blowing up buildings "in preparation for the next stages of combat".
"Tanks and infantry struck numerous terrorist cells, infrastructure and anti-tank missile launch posts," it said.
Palestinians in Gaza said Israeli air strikes had pounded the territory again overnight and people living in central Gaza, near the Bureij refugee camp and east of Qarara village, reported intensive tank shelling all night.
Hamas did not comment directly on the Israeli report but said its armed wing had struck an Israeli helicopter east of Bureij. The Israeli military said it was "not aware of this".
Israel has carried out weeks of intense bombardment of the densely populated Strip following the Oct. 7 Hamas attack on Israeli communities, which it says killed some 1,400 people.
Gaza's heath ministry said on Wednesday that more than 6,500 Palestinians had been killed in the air strikes.
In Jabalia refugee camp in northern Gaza, an Israeli air strike hit a house, killing a mother, her three daughters and a baby boy.
The father said his parents had been made homeless by Israelis in 1948 and that he would not leave, whatever happened. Holding the baby's body, with those of his family nearby, he said:
"He is only two months and a half old, what did he do? Did he kill? Did he wound someone? Did he capture someone? They were innocent children inside their house."
The director of the Nasser hospital in the southern city of Khan Younis, Nahed Abu Taaema, said the bodies of 77 people killed in air strikes had been brought in overnight, most of them women and children, Hamas's Al-Aqsa radio station reported.
Many Palestinians are sheltering in Khan Younis's hospitals, schools, homes and existing refugee camps and on the street after Israel warned them to leave their homes in the north.
Israel did not respond directly to the report but said its forces had struck a Hamas surface-to-air missile launch post in the Khan Younis area, which it said had been placed next to a mosque and kindergarten.
It was not clear if both sides were referring to the same incident.
Humanitarian supplies are critically low but world powers failed at the United Nations to agree on how to call for a lull to the fighting to deliver significant amounts of aid. Mass graves have begun to be used as the civilian toll has mounted.
The Palestinian Red Crescent said 12 trucks had crossed from Egypt carrying food, water and medical supplies on Thursday, making 74 trucks since Saturday, still only a small fraction of Gaza's peacetime needs. Israel has not allowed fuel in, saying Hamas would just add it to its stockpile.
US CONCERNED ABOUT IRANIAN-BACKED ATTACKS ON ITS TROOPS
Reflecting concerns the Gaza war may spread, the Wall Street Journal reported that Israel had agreed to delay invading Gaza until US air defence systems can be placed in the region, as early as this week, to protect American forces.
Asked about the report, US officials told Reuters that Washington had raised concerns with Israel that Iran and Iranian-backed Islamist groups could escalate the conflict by attacking US troops in the Middle East. An Israeli incursion into Gaza could be a trigger for Iranian proxies, they said.
Israeli warplanes struck Syrian army infrastructure on Wednesday in response to rockets fired from Syria, an ally of Iran. Israel has also targeted Syria's Aleppo airport and Iranian-backed Hezbollah in Lebanon.
Iran, Israel's arch-enemy, which backs armed groups in Syria, Lebanon, Iraq and Yemen as well as Hamas as part of a long-running bid for regional ascendancy, has warned Israel to stop its onslaught on Gaza.