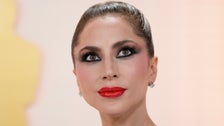 Lady Gaga is assuring concerned fans her recent absence means only good things.
The "Poker Face" singer penned an open letter Friday on Instagram to announce that she's been creative "in a really special and private way" since 2022. Gaga, who won an Oscar for "A Star is Born" and recently wrapped the "Joker" sequel, has certainly been busy.
"I wrote and produced a musical for a special project, I prepared for months developing my character for 'Joker,' I filmed 'Joker' for many months (a very introspective time), I have been running my start-up Haus Labs… and… working on the Chromatica Ball film edit," wrote Gaga.
"For the first time in many years… my love of making art, music, fashion, and supporting my community has never been more fulfilling," she wrote. "I hope you know this time to myself has been extremely healing and recharging for my heart, mind, body, and creativity."
Gaga espoused the benefits of "a personal life that's just for me" but acknowledged to her die-hard fans they "may feel different" — because she hasn't "always been so private." Gaga, who calls her fans "little monsters," said her love for them "will never change."
"Thank you for being willing to grow with me so that I can change and transform with the community I love so much," she wrote. "I hope you love all the things I've been creating for you, and I hope this is a small reminder to you of my deep passion and commitment to art."