Indian mobile phone manufacturer has created a Guinness World Record for the largest mosaic made of smartphones in the shape of Indian Flag. The company created this record at a mall in Noida, Uttar Pradesh. The record was achieved by using Lava Blaze 2 smartphones. An official adjudicator from Guinness World Records was there to verify the record and certified that the mosaic featuring the smartphones was indeed a new world record.
Commenting on the occasion, Sunil Raina, President and Business Head, Lava International, said, "We are very proud to see India break the record of building the largest animated mobile phone mosaic in the shape of the Indian Flag. This is a tribute to the nation on its 77th Independence Day and marks a celebration of the success of Agni 2 – which quashed the notion that Indian tech products cannot succeed. We're proud to have set this record."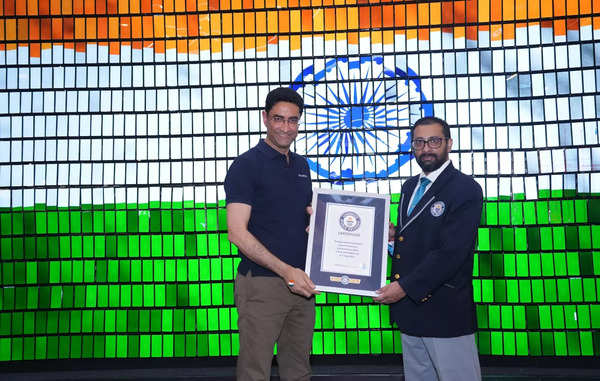 On portfolio expansion
Lava International has its manufacturing and repair facility in Noida. As of August 31, 2021, the manufacturing facility is claimed to have an aggregate production capacity of 42.52 million feature phone equivalent handsets per annum.
Domestic smartphone company Lava recently launched a wide range of smartphones including Lava Agni 2, Lava Blaze 5G and Lava Yuva 2 Pro. According to Counterpoint Research, Lava recorded 53% year-on-year growth during the second quarter of 2023.