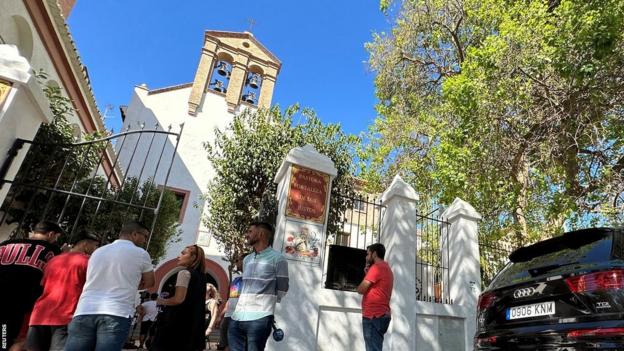 The mother of Spanish football federation president Luis Rubiales has been hospitalised after going on hunger strike in protest at the treatment of her son, a local priest has said.
Angeles Bejar locked herself in a church in Motril on Monday.
Rubiales has been heavily criticised for kissing Spain's Jenni Hermoso on the lips after the World Cup final.
Hermoso said the kiss during the presentation ceremony in Sydney on 20 August was not consensual.
On entering the Divina Pastora church in Motril on Spain's southern coast, Bejar told Spanish news agency EFE the strike would continue "indefinite, day and night".
She added the "inhuman and bloody hunt that they are doing with my son is something he does not deserve".
The priest, who identified himself as Father Antonio, told Reuters news agency that Bejar had been taken to hospital in Motril – the town where her son was raised – so had to cancel a scheduled news conference.
"She had not been feeling well because of the heat and everything else," he told reporters.
"Her feet had become swollen and she was very tired. She had also become very nervous."
Rubiales was suspended on Saturday by world football's governing body Fifa, a day after he had insisted he would not resign and claimed the kiss was "mutual and consensual".
Football Federation regional leaders have called on president Rubiales to immediately step down, while Spanish prosecutors opened a preliminary investigation into whether the incident amounts to a crime of sexual assault.
Spain's Sports Tribunal (TAD) also met on Monday to discuss the Spanish government's request to suspend Rubiales, with a decision yet to be announced.
Uefa president Aleksander Ceferin told French website L'Equipe that Rubiales' actions were "inappropriate".
In his first comments on the incident, Ceferin said: "I am a lawyer and one of the vice-presidents of Fifa. Any comments I might make would sound like pressure.
"I just have to say that I am sad that such an event overshadows the victory of the Spanish national team.
"We should change things."
'Spain is determined to end sexism'
Spain's acting equality minister Irene Montero said Spanish society must break a "pact of silence" and stop normalising sexist behaviour, though she hopes the widespread support for Hermoso following the incident will prove a turning point.
"Spain is a feminist society in which sexism still exists, but it is determined to end sexism," Montero said. "We are sending the correct message to the world, that sexism is over.
"Perhaps it would have been desirable for this pact of silence to be broken with more force and forcefulness. But I think it has begun to crack and that is a very important step."
The incident has sparked protests across Spain in support of Hermoso and against Rubiales, while fellow players – including the Lionesses – have also shown their support.
The United Nations Human Rights office has also backed Hermoso, saying everyone has a responsibility to "call out and challenge" sexual harassment and abuse.
How did the situation get to this point?
20 August – During the ceremony following the World Cup final, Spain forward Jenni Hermoso is first embraced and then kissed on the lips by Luis Rubiales.
Hermoso later reacts to the kiss during a live stream and says she "did not enjoy" it.
21 August – Rubiales issues an apology saying he is "sorry for those who were offended" after being fiercely criticised by other footballers, the media and even the Spanish prime minister, some of whom called on him to step down.
24 August – World football's governing body Fifa opens disciplinary proceedings to examine Rubiales' actions.
25 August – A defiant Rubiales insists at an emergency Spanish football federation meeting that he will not resign, and calls the kiss "consensual".
25 August – The Spanish government says it is beginning legal proceedings seeking to suspend Rubiales, with the Spanish secretary of sport saying he "wants this to be Spanish football's MeToo moment".
25 August – Later that day, Hermoso releases a statement on Instagram rebuffing Rubiales' claims, saying that "at no time… was his kiss ever consensual".
25 August – 81 Spanish players – including all 23 players who went to the Women's World Cup – announce they will not play for Spain's women's team until Rubiales is removed from his position.
26 August – The Spanish football federation (RFEF) says it will take legal action over "each falsehood that is spread".
26 August – Fifa announces it is provisionally suspending Rubiales pending the outcome of its disciplinary proceedings.
26 August – World Cup-winning head coach Jorge Vilda criticises Rubiales, while his entire coaching staff resigns in protest against the federation president.
27 August – The Federation's delegate for sexual violence protocol confirms an internal investigation into events is under way.
28 August – Rubiales' mother goes on hunger strike in a church in his hometown of Motril.
28 August – Spanish prosecutors open preliminary investigation to see if the incident amounts to a crime of sexual assault.
28 August – RFEF regional leaders urge Rubiales to immediately resign.
30 August – Rubiales' mother taken to hospital on third day of her hunger strike.