"I have so much time. I don't know what to do with it," says Manav Kaul. The writer, actor, director who straddles mediums like a consummate trapeze artist, packs so much in life that he gives every creative soul a complex. "I am a traveller too," he says, revealing his versatile persona.
He was in Delhi in his stage-avatar to launch the upcoming IHC Theatre Festival with his latest production Tumhare Baare Mein, a potent, poetic take on modern-day relationships where men want to be penguins and women dream of becoming a bird who can fly. It is about the cages men create for women and the centuries of patriarchy and self-denial that women struggle to break free from. Provocative and poignant with dollops of sharp humour, the story revolves around a couple sitting in a cafe interacting with their past and future versions.
Manav says Delhi has a "taste for theatre" and whenever he writes a new play, he is anxious for a response from the Capital's audience. "More than my popularity as an actor, people come to my plays because of my books. I feel the social media fad will eventually pass and youngsters will return to literature." Before he flies off to Himachal Pradesh for yet another two-month travel and writing stint, we catch up with him backstage to talk about his craft and concerns.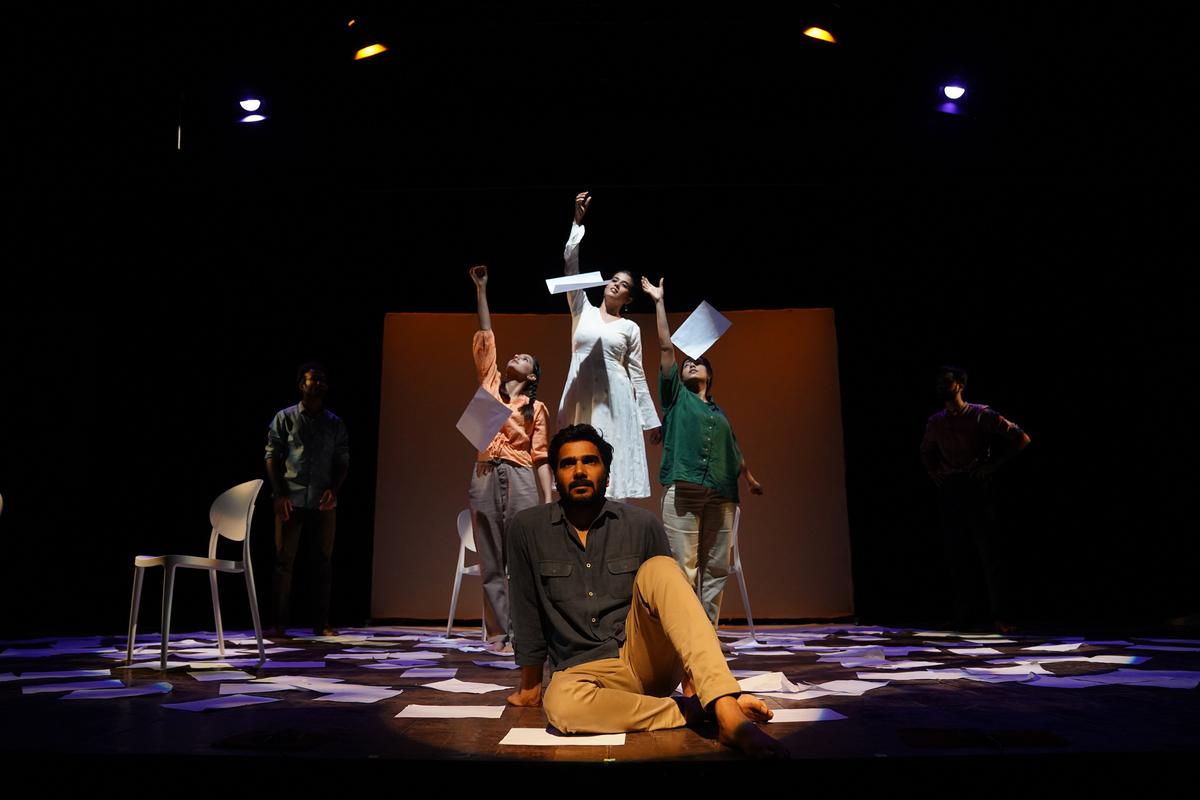 Edited excerpts:
The play has a distinctly feminist voice. How did it take shape?

I don't know why but of late, I have been only reading female writers. I find them complex, beautiful, and way ahead of contemporary male writers. I recently read The Beekeeper of Aleppo. It captures the harrowing experience of a Syrian refugee, Nuri, who is trying to reach London. When I finished the book, I felt I should read more books by the author and found out that Christy Lefteri is a woman. I said thank god she gave me this light so that I can also approach writing from a gender-neutral perspective. While musing over what made her write, I started conceiving this play.
It is also influenced by the women in my life, particularly my mother. They were amazingly talented but couldn't do anything substantial. The moment I thought I was writing for my mother, everything fell into place. She was a talented person stuck in the middle of nowhere. Of course, our shifting from Kashmir to her father's home in Hoshangabad had a role but it was more about how my father was and how in a patriarchal society a woman can only fly within the walls of the house.
When men reminisce about their mothers only because of the taste of their dal that they miss, it shows that we have reduced the women in our lives to the kitchen. I have seen grandmothers who haven't felt the sun for weeks. The patriarchy is in my DNA and I was like other men when I was in my small town and used to think this is the way society runs. So it is a kind of apology letter.
So, you practise what you say in the play…

These are intelligent actors and they won't let me do this if I don't practise it. They argue about everything. I put myself in their situation. In a way, the three women in the play tell my story. How I was caged on the other side. It is the two sides of the same coin.
You are a writer, director, and actor and you have kept two separate Instagram accounts to engage with followers of your literary and cinematic pursuits

They complement each other without having a corrupting influence on one another. If you see my direction on stage, it comes from cinema. I have a fondness for cinematic direction and unlike the popular perception, I strongly believe that theatre is a director's medium. My playwriting comes from literature. I do not conceive a play after reading another playwright's work. These days I am exploring how words can create an image.
And acting?

After not acting on stage for 12-13 years, when I was offered Kai Po Che, it was difficult to think of myself as an actor. Before that, every time I saw a film script, I would start finding faults in it. But, gradually, I started finding acting therapeutic and began to enjoy. I look at acting as therapy.
Looking back, I can say acting satisfied a monetary requirement as well but, more importantly, it proved to be a great vent. It is still very difficult for me to be directed on stage. In cinema, I completely surrender. I am strict while directing so I want to be my director's actor. However, I continue to be choosy. I take long breaks to travel and write books. This is how I could say no to negative roles after Kai Po Che and Wazir and waited till I could break the mould in Tumhari Sulu.
Now in films and OTT series, you are cast opposite strong female actors and still make your presence felt…

Yes, Priyanka Chopra, Vidya Balan, Madhuri Dixit, and Shefali Shah! With such talent, you just have to stand and act. I did my first play in 1993. If I don't do things of a certain standard, I better leave (laughs).
Being a Kashmiri, whose family was forced to migrate at the height of militancy in the late 1980s, how do you engage with your home State and the changing socio-political ecosystem?

I feel blessed that I was born in Baramulla, grew up in Hoshangabad, did theatre in Bhopal, and expressed myself in Mumbai. It has made me a person who can live anywhere. In my head, my Kashmir and its fragrance is very different. I only interact with my image of Kashmir and it is still stunningly beautiful. I have expressed my engagement with Kashmir in my travelogue Rooh. I go to Kashmir and interact with my friends and people at an individual level and they are so giving. That's how we are surviving.
When you travel across the country, you realise we are so bizarrely different but still live together. There are a lot of things in this world that I don't agree with but I can't go and change the world. I like to see the world as it is. I am here for a short period and want to inject only love and peace through my work.
What's next?

I am doing the title role in one of the craziest Netflix series. It is more commercial and funnier than anything I have done in the past. I usually don't audition but here I offered myself to be tested before taking the plunge. Then there is a film written by Twinkle Khanna. I have done all the heavy lifting with my writing, I want to dance now!
The line-up
The festival features 12 plays, a book discussion, a 35mm screening of a film on Indian theatre, workshops, and interactions.
A double-bill of plays by Ranga Shankara's AHA!, EE Gida, AA Mara (This plant, That plant), and Chippi, The Chipkali 
Akarsh Khurana's The Verdict, Shikha Talsania and Prerna Chawla's Dekh Behen 2, and Victor Thoudam and Bimal Subedi's The Departed Dawn. 
 Theatre veteran Makrand Deshpande's Siachen and Jyoti Dogra's Maas. 
Faezeh Jalali's Afterflies; Saurabh Nayyar's Golden Jubilee, and Jabbar Patel's Indian Theatre.
( At the India Habitat Centre, LodhiRoad; September 22 to October 1; 7 pm daily)