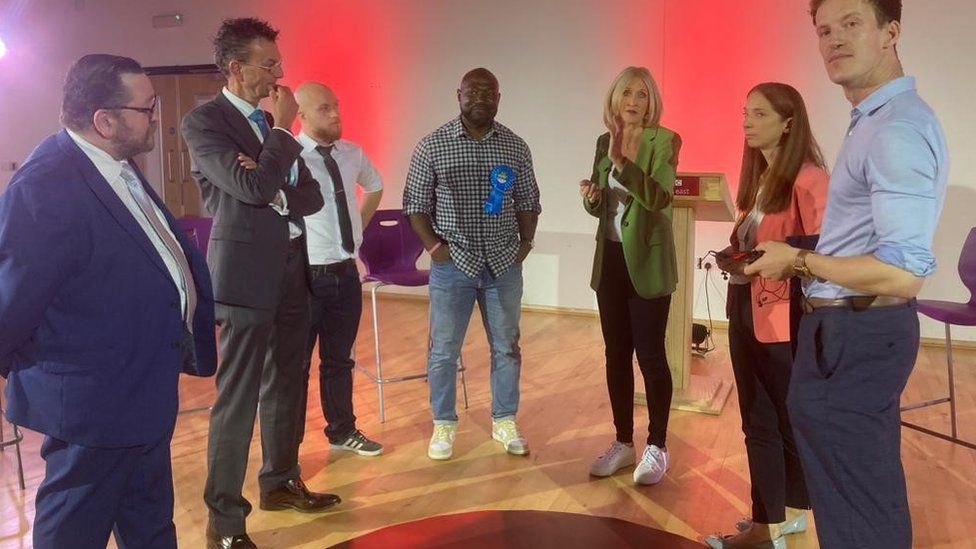 Candidates for the by-election in the constituency of Mid Bedfordshire have given their views on the shortage of services in some parts of the region.
Local people have told the BBC of their concern over the difficulty in getting a GP appointment, finding an NHS dentist or getting a foot on the housing ladder.
In August this year across the Bedfordshire, Luton and Milton Keynes NHS-commissioned area, there were 2,799 patients for every fully qualified GP – the fifth-highest ratio in England.
There were, on average, 468 more patients per GP than in March 2017, although the number of trainee GPs in the area was more than double what it was five years ago.
The rise in interest rates, meanwhile, will have hit Bedfordshire hard, where 39% of all homes are mortgaged – the third highest rate in England.
Festus Akinbusoye – Conservative
Conservative candidate Mr Akinbusoye, who has been Bedfordshire's police and crime commissioner (PCC) since May 2021, said: "My family and I have lived in Mid Bedfordshire for almost 15 years, so I completely understand the community's concerns about pressures on our local services.
"I will fight for the health investment and transport infrastructure our area needs and hold local leaders to account, as I have done as your PCC.
"But most importantly, I will not let opposition parties bulldoze our green spaces for development, which would pile even more pressure on local services."
On the issue of housing he said: "We need to build the right homes in the right places. That means taking a brownfield-first approach to development, ensuring communities have a say over housebuilding in their area."
Sid Cordle – Christian Peoples Alliance
Christian Peoples Alliance candidate Mr Cordle, who is also party leader and stood in local council elections in Hitchin, said: "Our policy is to return to GP fundholding which worked so well in the 1990s.
"Tony Blair stopped it in 1998 but the end result was that though he put a lot more money into the NHS, he left office with waiting lists higher."
On transport issues, he said: "We need to monitor demand for buses but in some situations, a cheaper taxi service provides a better solution.
"There's no point in having buses going round with no-one on them. Houses should be built close to railway stations wherever possible or where there is a good bus service."
Dave Holland – Reform UK
Reform Party candidate Mr Holland, who grew up in Ampthill, said: "With regard to the lack of GPs, I have a strategy that I have already put to the people of Wixams to present a business case by gathering pledges to use a new surgery when it opens.
"With sufficient pledges, we will be presenting a readymade business for a satellite GP surgery to open.
"The problem with affordable homes for first-time buyers is that those homes are only cheap once. Affordable, rent-controlled housing, however, is a different matter and good quality social housing is the only way to achieve this.
"Local inhabitants need to have a priority mechanism so that the next generation can continue to live where they grew up rather than having to move away."
Emma Holland-Lindsay – Liberal Democrats
Ms Holland-Lindsay, who grew up in the county and represents Leighton Buzzard for the Liberal Democrats on Central Bedfordshire Council, said she quizzed local NHS bosses last month about local health services.
"[I] will now be taking my fight to the government who are refusing to stump up cash for new health hubs.
"For too long we've been taken for granted and not given the GP and NHS services we need.
On first time home buyers, she said: "I was shocked to hear from a trainee accountant living in Cranfield, who despite earning a good wage, couldn't afford to buy in the local area.
"We need a new planning system which takes power away from greedy developers who only want to build large houses which young families can't afford."
Ann Kelly – Monster Raving Loony Party
Ms Kelly, of the Monster Raving Loony Party, has lived in the constituency for 35 years and said the party would "replace employees of the Border Force with GP receptionists" to "dramatically reduce the number of people getting in" the country.
On housing and the shortage of GPs, she said she would "stop all insane building without resources".
She said first-time buyers would need to "prove a local connection, provide proof of earnings and savings" and that "only affordable housing will be built".
On buses she said: "It wouldn't matter on the frequency as long as they can be relied on and turn up when they say they will."
Prince Ankit Love, Emperor of India – independent
Candidate Prince Ankit Love, Emperor of India, on the issue of housing, previously told the BBC: "If we start to produce our own foods, crafts, clean energy, building materials and have more people owning homes, we won't need to borrow from banks that much."
On health issues, Mr Ankit Love said: "We need to have more choice for both the patient and the doctors and support more medium-priced private practices to ease the pressure on free services of NHS for those that can afford to pay reasonable prices."
The musician and film-maker told the BBC he wanted to tackle the issue of "air pollution and trying to build social housing".
He has said he would support "free education to university level" and "quality healthcare as I'm concerned about people's health".
Gareth Mackey – independent
Independent candidate Gareth Mackey, who has been a Central Bedfordshire councillor for Flitwick since 2019, said he would be best to represent people on issues such as GPs and housing because "I am independent [which] means that I can fight the battles my constituents dictate".
"I would be seeking to form consensus and cooperate with those who are able to help get the best deal for Mid Bedfordshire. I will be pleased to support policies which can deliver the priorities," he added.
"National problems such as those on your list (GPs, housing, dentists) need investment and the will of policymakers to solve.
"I will shout from the rooftops to make sure the voice of my constituents is heard."
Chris Rooney – Mainstream
Mainstream candidate Chris Rooney said of GP services: "The existing provision has not taken into account the big increases in population in Mid Beds.
"The present government has had many years warning. For example, Wixams has been a new town in progress for many years and already has 5,000 residents – but not one single GP."
On homes for first-time buyers, he said: "The housing market has become a speculator's paradise – a way for rich people to get even richer. It should be just about supplying homes for families to live in.
"We would intervene in the housing market, outlawing the buying [and] selling of dwelling houses as investments – whether by UK citizens or overseas clients. New house builders make unfair profits."
Cade Sibley – Green Party
Green Party candidate Mr Sibley, who lives in Toddington, said: "Conditions and pay need to also improve to a point that young British people are incentivised to study towards becoming a GP to ease the burden on those already practising.
On housing he said: "For the average starter family looking for a one or two-bedroom property, they're faced with huge developments that don't suit their needs and without the necessary provisions to sustain the community.
"Currently, public transport links from small rural communities are moving in the wrong direction. The Green Party would make sure that sufficient investment was being provided to sustain and grow access to public transportation."
Alistair Strathern – Labour
Mr Strathern, a former teacher who now works for the Bank of England, said: "Residents feel let down by the lack of infrastructure in our towns and villages.
"Thousands of people are waiting over a month for a GP appointment."
He added: "I will hold developers accountable for delivering on promises of new GP surgeries, train stations and bus routes. I will also get the NHS and local councils around the table to work out how we can access funds to increase healthcare capacity.
"It is also vital that first-time buyers have access to the housing they need. That's why I will encourage local councils to ensure that the housing we get is the right housing for our towns and villages."
Alberto Thomas – Heritage Party
Mr Thomas, of the The Heritage Party, said GP appointments should be available the same week that the patient contacts the surgery.
On first time buyers, Mr Thomas said: "House buying for any buyer, let alone first time buyers, is difficult when the current government has mismanaged the economy – causing inflation and interest rates to rise.
"First time buyers should wait until interest rates become more affordable, and perhaps go for a 10-year fixed rate. I would advise against going for any short-term two-year deals.
"Don't let the government fool you into believing interest rates are cheap."
Alan Victor – True and Fair Party
True and Fair Party candidate Mr Victor, 63, who has lived in Bedfordshire for 32 years and is a retired car company executive, said the GP and dentist shortage had "existed for a long time, but they have been exacerbated by the high levels of recent housebuilding without matching levels of infrastructure and services".
"A lack of sufficient national funding has led to poor GP availability and the situation is particularly dire in Bedfordshire," he said.
Mr Victor continued: "People are consistently forced to travel to other villages in search of decent primary care.
"Making these journeys between villages has been made more difficult by maintenance issues with new Marston Vale railway trains. "
Antonio Vitiello – English Democrats
English Democrats candidate Mr Vitiello said MPs have very little power over GP surgeries and house building.
"So far as housing problems are concerned, only a reversal of the British political establishments policy of swamping England with a millions of migrants will free up houses for our people," he said.
Mr Vitiello, who previously stood in Buckingham in the 2019 General Election, also told the BBC: "If we had an English parliament we could pass laws to regulate doctors' surgeries.
"We could require they operate some degree of 'sit and wait' clinics."
You can see more on this story on Politics East on BBC One on Sunday, 15 October at 10:00 GMT, with it also available on BBC iPlayer afterwards.
Related Internet Links
The BBC is not responsible for the content of external sites.