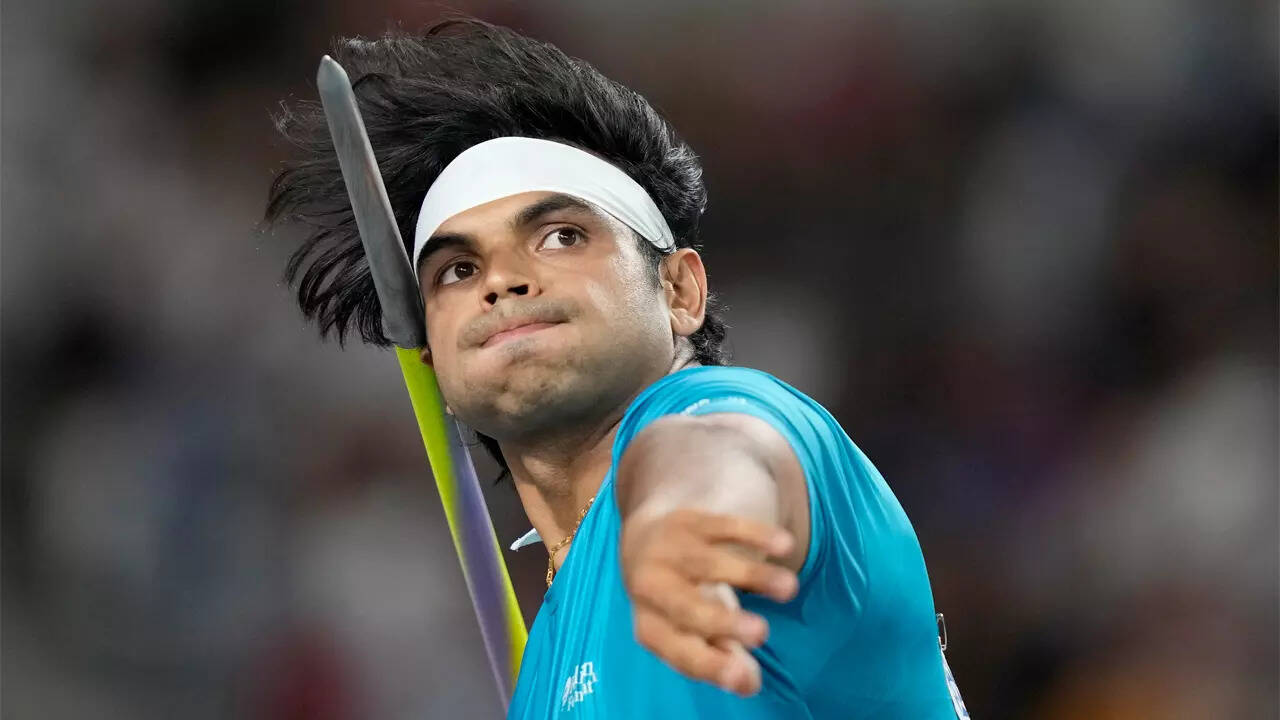 NEW DELHI: Newly-crowned world champion Neeraj Chopra is poised to extend his unbeaten record into the esteemed Diamond League meet. He is set to showcase his skills in a high-profile men's javelin throw competition in Zurich on Thursday.
Chopra secured his maiden World Championshipstitle in Budapest on Sunday, achieving an impressive throw of 88.17 meters.This achievement follows his silver medal win in the 2022 edition of the Championships.
The Indian sensation has also joined an elite club of javelin throwers, becoming only the third athlete in history to hold both the Olympic and World Championships titles.
The other two members of this exclusive group are Jan Zelezny from the Czech Republic, the current world record holder, and Norway's Andreas Thorkildsen.
Zelezny clinched Olympic gold in 1992, 1996, and 2000, in addition to securing the World Championships title in 1993, 1995, and 2001. Thorkildsen's accomplishments include a gold medal win in the 2008 Olympics and the 2009 World Championships.
The 25-year-old Chopra has been unbeaten this season, having won two Diamond League meetings in Doha (May 5) and Lausanne (June 30) before his World Championships triumph.
In Zurich, where he is competing four days after being crowned world champion, Chopra will be up against familiar rivals like Czech Republic's Jakub Vadlejch, bronze winner in Budapest with 86.67m, Julian Weber of Germany and two-time world champion Anderson Peters of Grenada.
Only Pakistan's Arshad Nadeem, silver medallist in Budapest, will not be there in Zurich.
Chopra, who won the Diamond League final trophy last year, sits third with 16 points from two events. Vadlejch (21 points from three events) and Weber (19 from three events), who finished fourth in Budapest with 85.79m, are on top and at second place respectively.
Peters, who has been struggling this season and failed to qualify for the final round in the World Championships, is at fourth spot with 15 points from three events.
The Zurich leg is the last one in the Diamond League series where men's javelin throw event is on the roster before the season finale in Eugene, USA on September 16-17 where the Diamond League champion will be crowned.
Only the top six in the points table will compete in Eugene. Chopra won the title in the 2022 finale held in Zurich.
Long jumper Murali Sreeshankar will also be in action and he would be looking to redeem himself after failing to qualify for the final round at the World Championships.
Sreeshankar, who has a season's and personal best of 8.41m, jumped a below-par 7.74m to finish 22nd overall in the qualification round. He is currently third in the long jump standings of this Diamond League season, with 10 points from two events.
Olympic and world champion Miltiadis Tentoglou (Greece), Tajay Gayle and Carey McLeod (both Jamaica) will also be in action. Gayle had won silver in Budapest with a jump of 8.27m.
Tentoglou, who won gold in the World Championships with 8.52m, is leading the Diamond League standings with 21 points from three events.
(With PTI Inputs)