A row has broken out about hospital waiting lists in Wales and England.
Mr Barclay said he was open to requests to help treat long-waiting Welsh patients over the border.
Ms Morgan said England had issues of its own, but admitted NHS Wales was "challenged in terms of waiting lists".
But what can we tell about the two?
Can NHS waiting times in Wales be compared England?
If you take the waiting times for hospital treatment as they are first published, then England and Wales cannot be compared straight away.
But for analysis, we have been taking out the waiting times for therapies and diagnostics, which are included in the figures for Wales, but not in England.
This leaves us with only the consultant-led specialisms in both nations and that makes comparison possible.
This still is not good reading in Wales.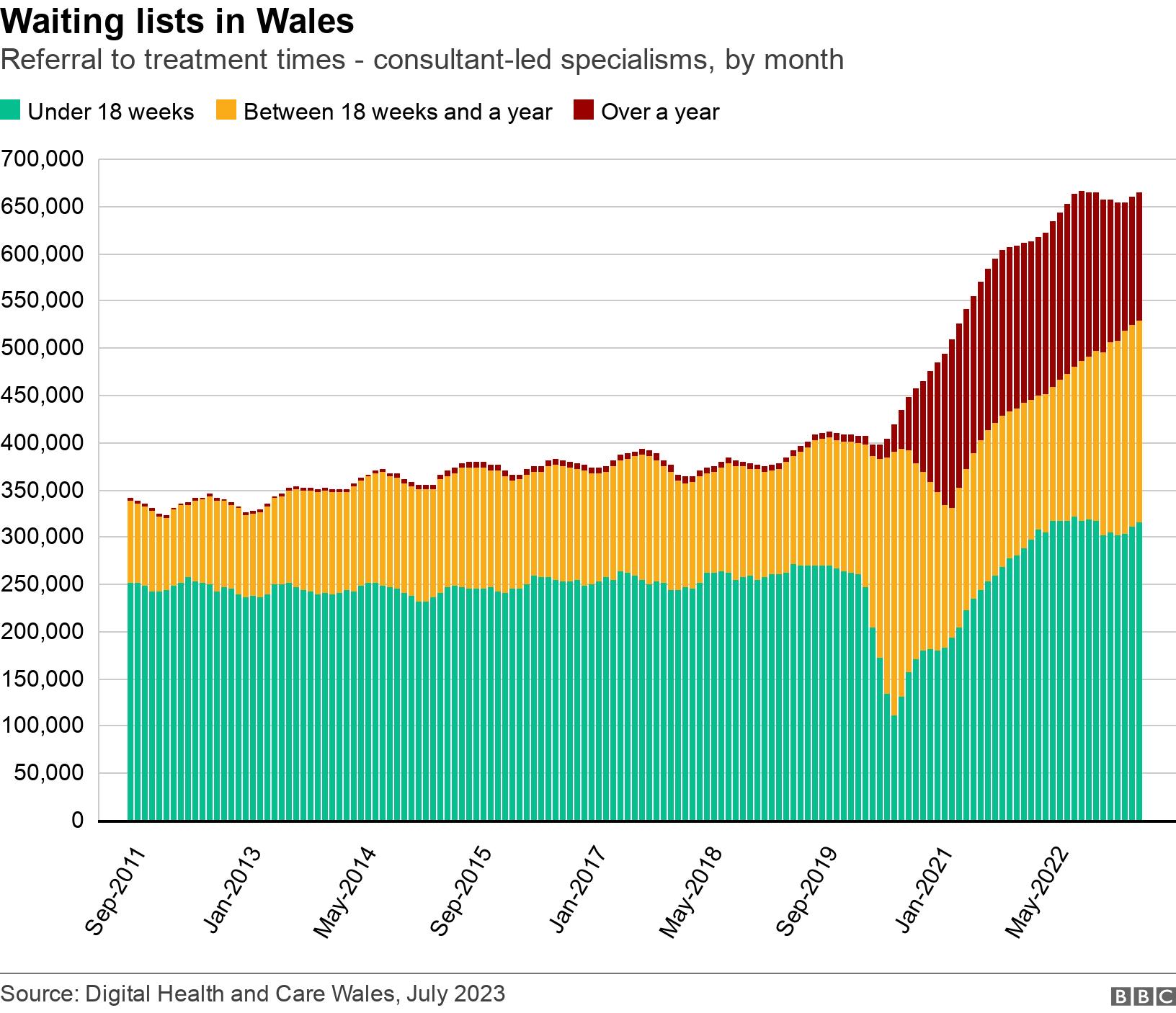 So how long are people waiting in Wales?
The figures show that 20.1% of patients in Wales – almost 134,000 in those consultant-led specialisms – are waiting more than a year, compared to 5.2% of patients on similar waiting lists in England.
This proportion is coming down, but slowly.
For the very longest waits, the ones Welsh Conservative politicians have been highlighting for months now, there are 4.5% of patients in Wales waiting more than two years – more than 30,200 patient pathways.
This compares to hardly any in England – 0.01%, or just 314 patient pathways at the most recent count.
What is the average wait for an operation?
In May, the average waiting time was just over 19 weeks for an operation, a week less than the previous month, with about a third of those in trauma and orthopaedics.
During Covid in 2020, it peaked at 29 weeks.
The spike in long waiting times was more pronounced in Wales at this time. The pandemic led to an 18-month period when routine surgery and day cases were running at half the average numbers compared to before the pandemic.
Things have been back at those pre-pandemic levels since last year.
In England, the median waiting time was 14 weeks – it peaked at 20 weeks during Covid.
How many people are waiting for operations on the NHS?
It is still not a great picture in England either, with overall hospital waiting lists in England hitting a record 7.57 million patient pathways in June.
The figure in May in Wales for all treatments stood at 748,400 patient pathways – below the record set the previous September. Some patients are on more than one waiting list, so it is estimated that the actual number of patients waiting is 584,000.
When we look at the adjusted figure, there were 665,064 waits on consultant-led specialist lists.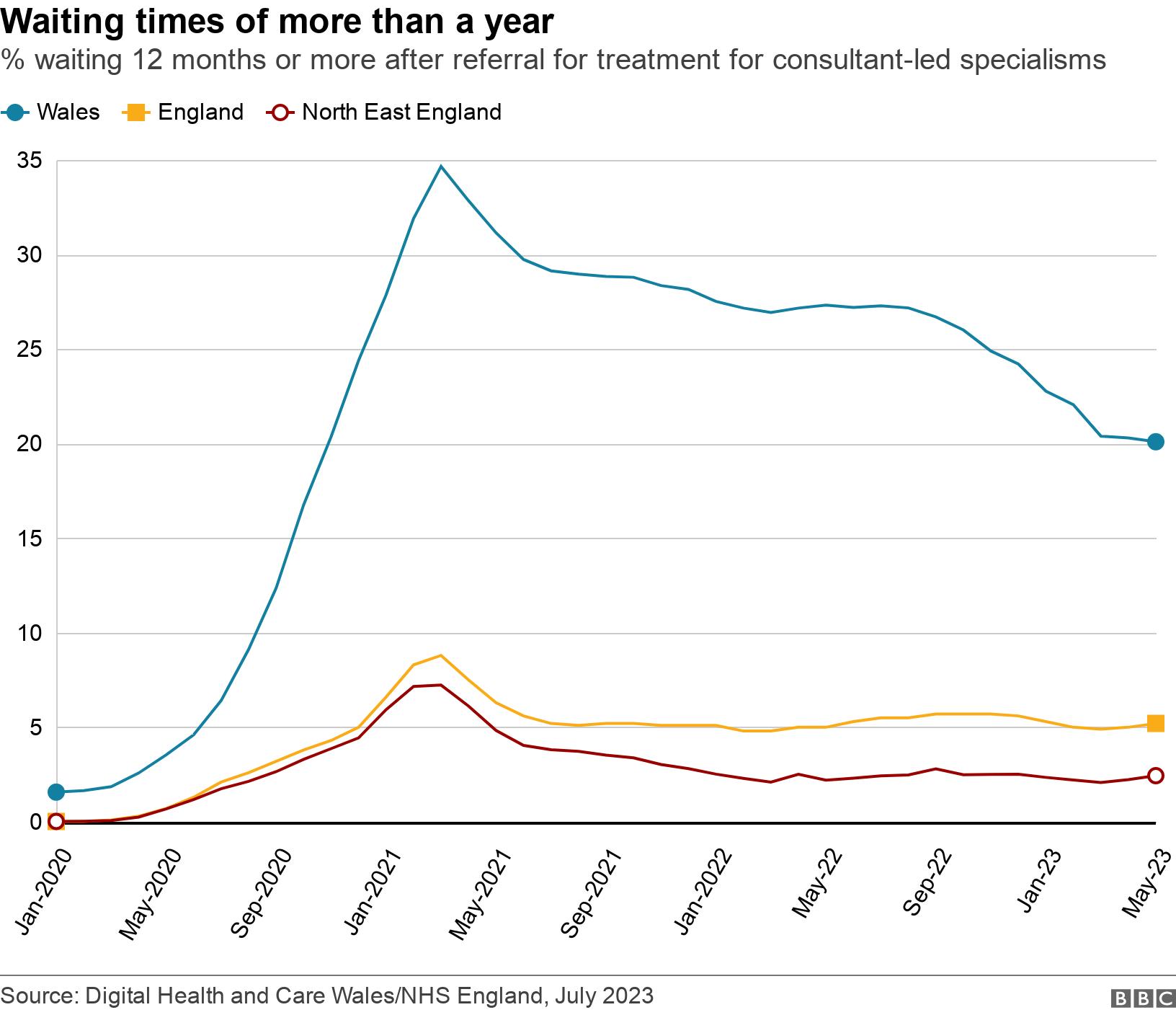 Can we look at waiting lists in an English region that is more like Wales?
For more context, we have also decided to compare Wales with a region of England it most closely resembles, not just England as a whole.
The north-east of England has similar characteristics in terms of industrial heritage, its population make-up and sickness and poverty levels.
But the nine health trusts in the north-east and Cumbria have been doing comparatively better than both the English and Welsh averages for the proportion of one-year waits.
Only about 2.5% of waiting lists there are made up of one-year waits, compared to 5.2% in England and 20.1% in Wales.
Sally Nugent challenges Steve Barclay
BBC Breakfast presenter Sally Nugent challenged English Health Secretary Mr Barclay when he claimed people in Wales were waiting four times as long for treatment as in England.
She pointed out that waiting times had been falling in Wales and the difficulties in comparing the figures.
Meanwhile, Welsh health minister Ms Morgan suggested there would be strings attached to any offer to treat patients over the border.
"If it's a free offer, I'll be taking up that offer. My guess is that it's not," she told BBC Radio Four.
How does Wales and England compare at A&E?
The Welsh government will point to improvements in accident and emergency waiting times – the other main metric where comparisons are possible and which are better than in England.
Here you have to compare only major emergency units in Wales with so-called type one A&E units in England.
This is still below the target of seeing 95% of people within four hours, which has never been met in Wales. It has not been met since 2012 in England.
What about other waiting lists?
Treating cancer in good time has also been a problem, with England set to move towards scrapping some targets, while Wales has been below its new cancer target since it was brought in, with just over half of patients starting treatment within two months of it being first suspected.
But it is a more complicated picture comparing the two nations on other measures.
There has been a recovery over the past year in the longest hospital waiting times in Wales but the argument now is, is it fast enough?
We will find out whether there has been an improvement when the latest figures come out next week.
Related Internet Links
The BBC is not responsible for the content of external sites.