The Duke of Sussex, who famously exited the royal family in 2020, recalled that moment in his latest Netflix docuseries, "Heart of Invictus," which premiered Wednesday. Harry spoke candidly about his military service — and how it led to a major emotional revelation.
"I can only speak for my personal experience, my tour of Afghanistan in 2012 flying Apaches," Harry says in the documentary, per People. "Somewhere after that, there was an unraveling, and the trigger to me was actually returning from Afghanistan."
"The stuff that was coming up was from 1997, from the age of 12, losing my mum at such a young age ― the trauma that I had, I was never really aware of, it was never discussed," he added. "I didn't really talk about it. I suppressed it like most youngsters would have done."
Harry said he was "bouncing off the walls" when his trauma "came fizzing out," and described the shock of finally "feeling everything" about his mother's death. Diana died tragically after a car crash in Paris' Pont de l'Alma tunnel in 1997. She was 36.
Harry served in the British military for 10 years and undertook two tours in the Afghanistan War. He was first stationed in the Helmand Province in 2007 and 2008, but was forced to come home when the press revealed his presence there. He returned for another tour in 2012.
The royal explained in his five-part Netflix series that he was initially "angry" about his extraction in 2008, but that he later understood it was for "everyone's safety." More importantly, however, he said there was no "support structure" for dealing with his trauma back home.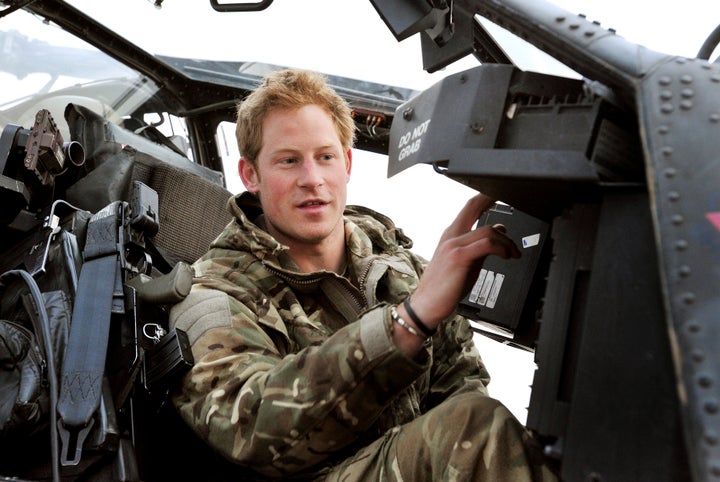 "Unfortunately, like most of us, the first time you really consider therapy is when you are lying on the floor in the fetal position probably wishing you had dealt with some of this stuff previously, and that's what I really want to change," Harry says in the "Heart of Invictus" project.
The series follows competitors in the Invictus Games, a multi-sport event for wounded, injured and ailing veterans that Harry founded in 2014. He recalls in the documentary that he saw "three young British soldiers" in "pieces" while leaving Afghanistan in 2012.
"That was the real trigger," the duke says in the series, "for I'm now seeing the real cost of war. Not just those individuals, but also their families, and what that would mean and how their lives would literally change forever."
"My hope has been to turn my pain into purpose," he told People in January, "so if sharing my experience makes a positive difference in someone's life, well, I can't think of anything more rewarding than that."