Reneé Rapp won praise from critics and fans alike when she made her Broadway debut in the stage adaptation of "Mean Girls," but she says her behind-the-scenes experience was more personally challenging than it appeared.
In an interview with The Guardian published Wednesday, the "Sex Lives of College Girls" actor said she was subjected to body-shaming by people involved with the musical after she joined the cast in 2019. Ironically, Rapp was playing the role of Regina George, the bossy leader of the ultra-popular "Plastics" clique known for making her classmates feel inferior.
Though Rapp didn't specify anyone by name, she told The Guardian that people "would say some vile fucking things to me about my body" during her "Mean Girls" run. She was also privately dealing with an eating disorder.
The situation got so bad, Rapp said, that her parents flew to New York to try to convince her to leave "Mean Girls" and focus on her health. The production ended up closing in March 2020 as theaters and other venues shuttered to curb the spread of COVID-19. It never reopened.
A press representative for the stage show did not immediately respond to HuffPost's request for comment.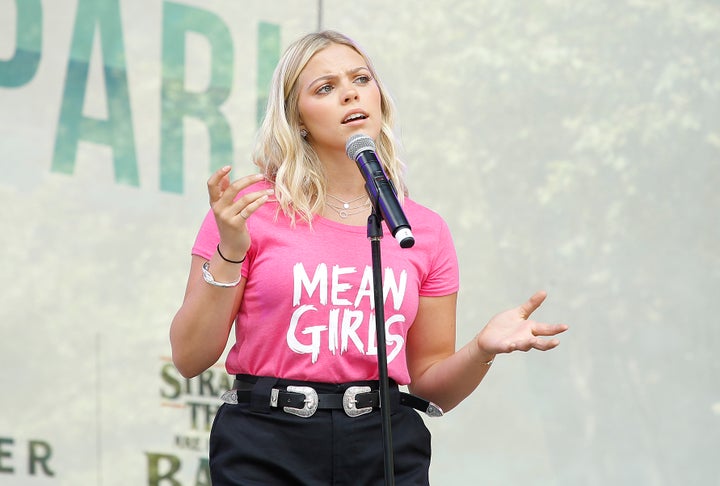 Even without the backstage stress, the North Carolina native is still working on a building a more positive relationship with her body.
"Eating disorders don't just go away and like, you're healed, like: 'Sorry, I can eat again, ha ha!' It's a lifelong thing," she explained. "There are battles with addiction and whatever everywhere. I still struggle with it, but at least my parents know that I've been taken out of environments that were really harmful to my sickness, which is awesome and a huge win."
These days, Rapp is focusing on music. Her first album, "Snow Angel," was released last week and is expected to be the highest-selling pop debut by a female artist this year.
And those who missed Rapp's Broadway run needn't fret, as she's reprising the role of Regina George in the forthcoming movie adaptation of the musical (not to be confused with the 2004 "Mean Girls" film, which starred Lindsay Lohan and Rachel McAdams).
"This is a very specific version of the musical that has a really specific place in a niche, culty theater way, that I think expands it to maybe people who aren't super into theater," Rapp told People in April.
If you're struggling with an eating disorder, call or text 988 or chat 988lifeline.org for support.