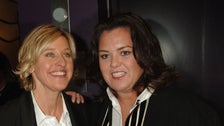 Rosie O'Donnell admits she has a "weird" relationship with Ellen DeGeneres and blames it on things her fellow former talk show host has said in public.
"We supported each other," O'Donnell explained. She said that when DeGeneres appeared on O'Donnell's talk show in 1997, prior to her character on the ABC sitcom, "Ellen," coming out as gay, she tried to help DeGeneres deal with the looming controversy.
"I said, 'Let me not have you standing there by yourself. Let's get a joke in there,'" O'Donnell recalled. "And we sat down and came up with that, 'Oh my God, I love Casey Kasem. Maybe I'm Lebanese.' It became a big thing."
But after DeGeneres came out and became more popular, O'Donnell said everyone was asking her opinion.
"It became a strange, 'There can't be two lesbians in this town' kind of a thing," O'Donnell said. "Then we each had success and went separate ways."
Although O'Donnell admits that the two comedians have "had our weirdness in our relationship," she said she doesn't know "if it's jealousy, competition or the fact that she said a mean thing about me once that really hurt my feelings."
O'Donnell said after King asked DeGeneres, "Whatever happened to Rosie O'Donnell's show? She went down the tubes as soon as she came out."
DeGeneres responded, "I don't know, Rosie. We're not friends."
As you probably guessed, O'Donnell wasn't happy and told The Hollywood Reporter, "I was watching TV in bed with my wife going, 'Did she just say that?'"
O'Donnell said it "would never occur to me to say, 'I don't know her' about somebody whose babies I held when they were born. It wouldn't be in my lexicon of choices to ever say."
The comedian was also shocked that DeGeneres didn't help her "when it was a downward media time for me."
Despite their differences, O'Donnell said DeGeneres recently texted her to see how she was doing and, in the process, sort of apologized.
"She wrote, 'I'm really sorry, and I don't remember that,'" O'Donnell said. "I guess she saw me talk about it on Andy Cohen's show."
O'Donnell said she remembered the incident so well that she had T-shirts printed for her staff that said, "I don't know Rosie. We're not friends."
She added: "I have a picture of her holding [my then-infant son] Parker. I know her mother. I could identify her brother without her in the room. I knew her for so many years. It just felt like I don't trust this person to be in my world."
By comparison, O'Donnell said her three-decade relationship with Madonna is legit.
"We formed a sister thing in a real way where we stay in each other's lives and touch base," O'Donnell said. "She sends gifts to my kids on their birthdays, and my kids show all their friends: 'This is a gift card from Madonna!'"