In Sapta Sagaradaache Ello (Somewhere Beyond the Seven Seas), director Hemanth M Rao subverts the traditional idea of a love story. He plunges straight into the relationship drama without the conventional meet-cute trope or the much-explored romantic number.
It's a meticulous paper-to-screen execution as Hemanth readies us for a moody love story from the very first scene. You see an argument that hints at the soon-to-be doomed fate of Manu (Rakshit Shetty) and Priya (Rukmini Vasanth), a middle-class couple with many dreams, big and small.
Priya is an aspiring singer, who is mesmerised by the sea and wishes for a simple life with Manu. Having moved to Bengaluru from her coastal hometown, she sees the sea in Manu and wouldn't mind spending her life singing for him. The dreams of Manu, a driver to business tycoon Shankar Gowda (Avinash), are lofty and materialistic. He looks at high-rise buildings and luxury cars with longing and hopes to own them one day.
Sapta Sagaradaache Ello (Side A) (Kannada)
Director: Hemanth M Rao
Cast: Rakshit Shetty, Rukmini Vasanth, Achyuth Kumar, Avinash
Runtime: 142 minutes
Storyline: Manu and Priya, a middle class couple, have big dreams. However, circumstances land Manu in jail, putting the relationship in jeopardy.
Set in 2010, Sapta Sagaradaache Ello flows smoothly with Hemanth and Gundu Shetty's deft writing. It doesn't romanticise the struggles of the middle-class. Many small moments of joy keep you immersed in the world of Manu and Priya until fate puts the couple apart.
As hinted in the trailer, a misstep from Manu lands him in jail and that is when Sapta Sagaradaache Ello becomes something more than a love story. The prison portions are served with philosophical undertones as Manu fights guilt and yearns to reunite with Priya. In the film, the jail is a metaphor for rebirth among the culprits. The shift in focus naturally unsettles our impression of the film.
The film springs back to life again when Hemanth refocuses his attention on the heartbreakingly brilliant chemistry of the leads. We witness the love story strengthen in, of all places, the prison. Separated by the fence, Manu and Priya exchange glances, smiles, gentle words and avoid looking at each other when engulfed in sadness.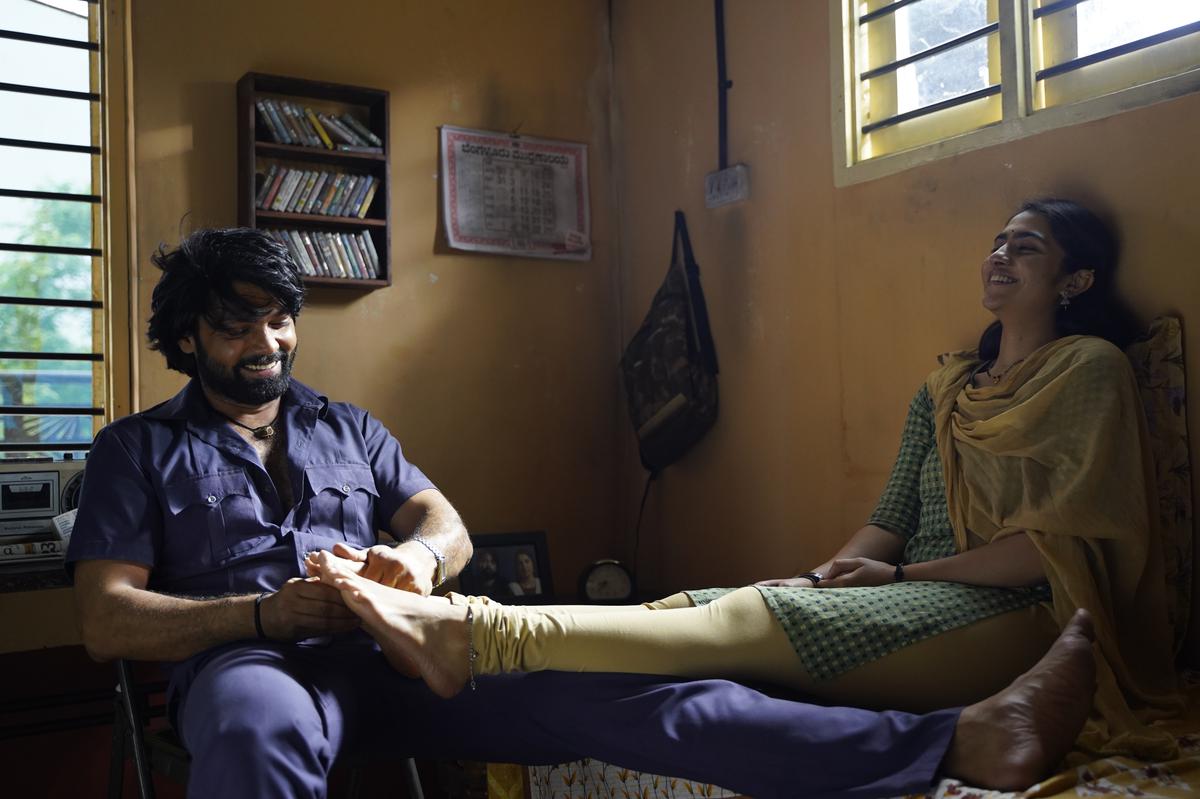 Hemanth succeeds in offering a poetic experience to the audience, thanks to cinematographer Advaitha Gurumurthy's visual treatment and Charan Raj's haunting score. Apart from the clever use of frames, Advaitha balances seamless visuals with close-up shots of Rukmini and Rakshit that convey a strong sense of despair.
Charan aids Advaitha in establishing the myriad mood changes of the film. The placement of the rap song 'Horaata' avoids melodrama in a terrific fashion while Charan's superb orchestral range helps us forgive the film's periodic lulls and Hemanth's indulgence. Scene after scene, Charan's score provokes sadness, doing full justice to the film's poignant nature. The background score hits a crescendo in the closing portions, which are gripping, an adjective hardly used to describe a love story.
ALSO READ:'Toby' movie review: Raj B Shetty's stylised, dark revenge saga grapples with predictability
Rukmini, as Priya, doesn't cry until she loses the battle of love. That said, Rukmini seems to have perfected the art of expressing anguish. She superbly internalises the resolve of a woman who aims to get her lover out of danger. Priya's endless wait for a happy reunion with Manu is one of the most moving portrayals in a long time from a female performer on Kannada screen. Rakshit's vulnerability will punch you in the gut.
Sapta Sagaradaache Ello is a film that doesn't end in theatres. The epic love story offers an immersive experience. The film has the refreshing quality of the sea, but it's also vast and terrifying. Watch this to confront your loss of love and feel a range of deep emotions. Also, wait till October 20 ('Side B') to know the full story of Manu and Priya.
Sapta Sagaradaache Ello (Side A) is currently running in theatres