When Nicole Villagran signed up to do her first Tough Mudder course, she thought she'd be getting an entertaining, if messy, workout.
She got that — and much more. Villagran has spent the last 10 days dealing with a pustular rash covering her arms, legs and torso.
The El Sobrante resident was one of thousands of participants who attended the mud-run obstacle course held Aug. 19-20 at the Sonoma Raceway, about 25 miles north of San Francisco.
Since then, she and hundreds of other attendees reported developing rashes, lesions, flulike symptoms and more. Many of the infections have been due to Aeromonas bacteria, which live in brackish water and can cause severe skin reactions ranging from mild cellulitis — red, swollen and painful skin — to necrotizing fasciitis, also known as flesh-eating disease.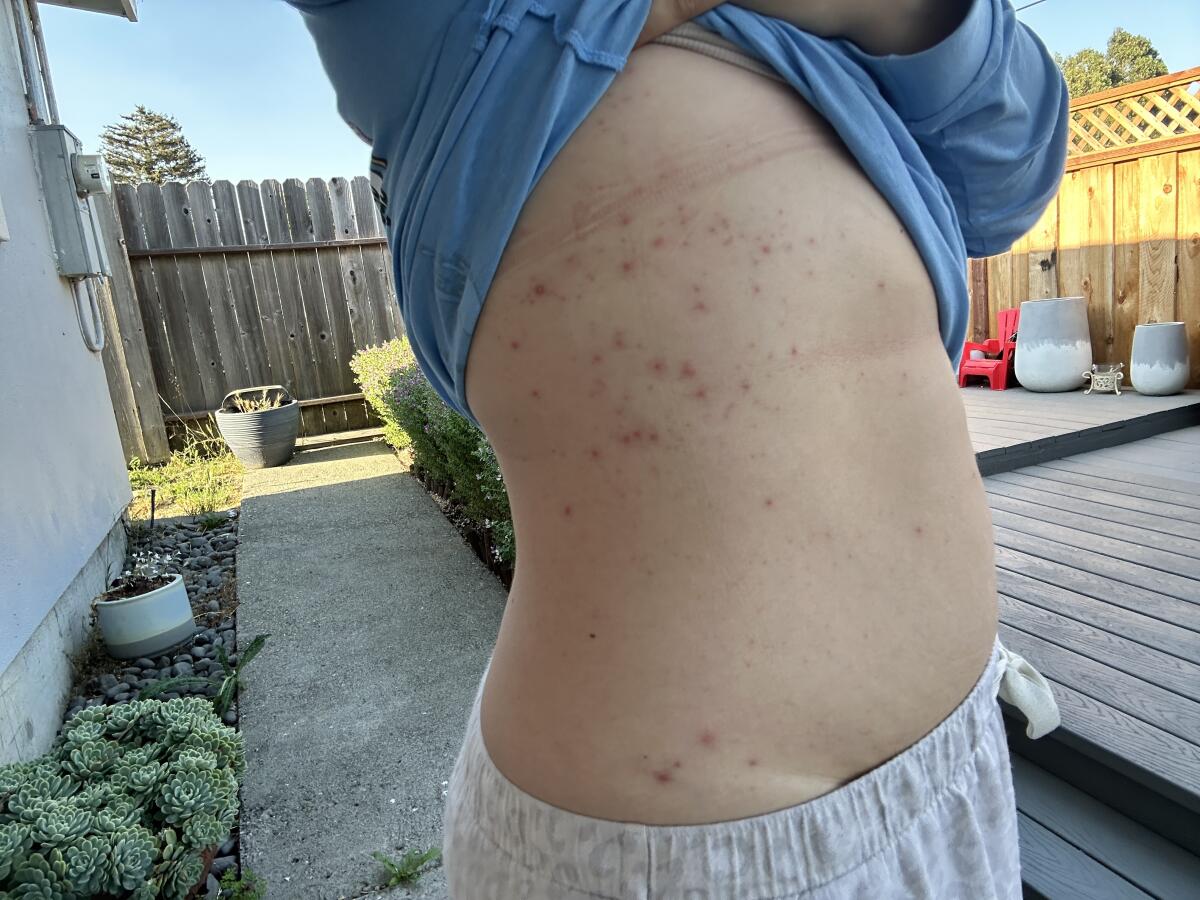 The California Department of Public Health issued a statewide advisory Monday to healthcare providers warning of the Aeromonas outbreak from the Tough Mudder event.
Matt Brown, a spokesman for the Sonoma County Department of Health Services, said county public health officials had confirmed at least eight cases of Aeromonas through lab testing but estimated there could be as many as 300 based on the number of calls and emails reporting infections.
"Right now, we are operating under the assumption that Aeromonas is the etiologic agent of most infections resulting from exposures at the event," Brown said in an email.
Villagran maintained that not every case had been reported to Sonoma County and that an online group of participants had tallied as many as 489 cases from the event.
The state public health advisory recommends that healthcare providers seeing patients who attended the event consider the possibility of Aeromonas as the cause of any skin and soft-tissue infections. The advisory also asks them to obtain wound cultures for testing and reporting, and to consider treatment options that are used for Aeromonas infections.
Villagran said the Tough Mudder event, where she participated in the 10-kilometer course, is designed to ensure participants get as muddy as possible. Among the 21 obstacles at the event on Aug. 20 were a mud-soaked "army crawl" under barbed wire, a swimming-pool-sized dugout of knee-deep muddy water to wade through, and rope climbs over mud slopes.
One of the obstacles, called the "mine shaft," smelled like manure, Villagran recalled.
This is not the first time a Tough Mudder event has resulted in bacterial infections. The Sonoma County Press Democrat said similar health issues were reported after the 2022 Tough Mudder. Posts on social media sites such as Reddit claimed previous Tough Mudder events led to similar bacterial skin infections.
Villagran said that had she known she could get sick, she never would have done it.
Tough Mudder spokesman Charlie Bernard said the organization had been working with public health officials to investigate the cause and origin of the infections.
"As it has been for the thousands of races we have put on for millions of racers across the globe, the health and safety of the Tough Mudder community is always our top priority," Bernard said. "All necessary protocols were followed in preparation for, and during, the event."
The organization reached out to all registered participants after the event and advised them to go to an emergency room or doctor's office if they experienced symptoms including a worsening rash, fever, fatigue and other flulike symptoms.
A representative for the Sonoma Raceway did not immediately respond to a request for comment.
Villagran said a group of people infected from the event had been in contact with Tough Mudder Chief Executive Officer Giles Chater asking for answers and a timeline for the investigation.
"Many people from this group have incurred $500+ ER bills, and I believe the majority have missed work," said the most recent email to Chater, sent Monday. "People want to know what the Tough Mudder organization is planning to do to help."
In the aftermath of her recovery, Villagran said she would never go to a Tough Mudder event again. She joked that there were safer ways for people to get the same experience.
"Go to Home Depot, buy a bag of dirt, get your hose, and get your pig on," she said.