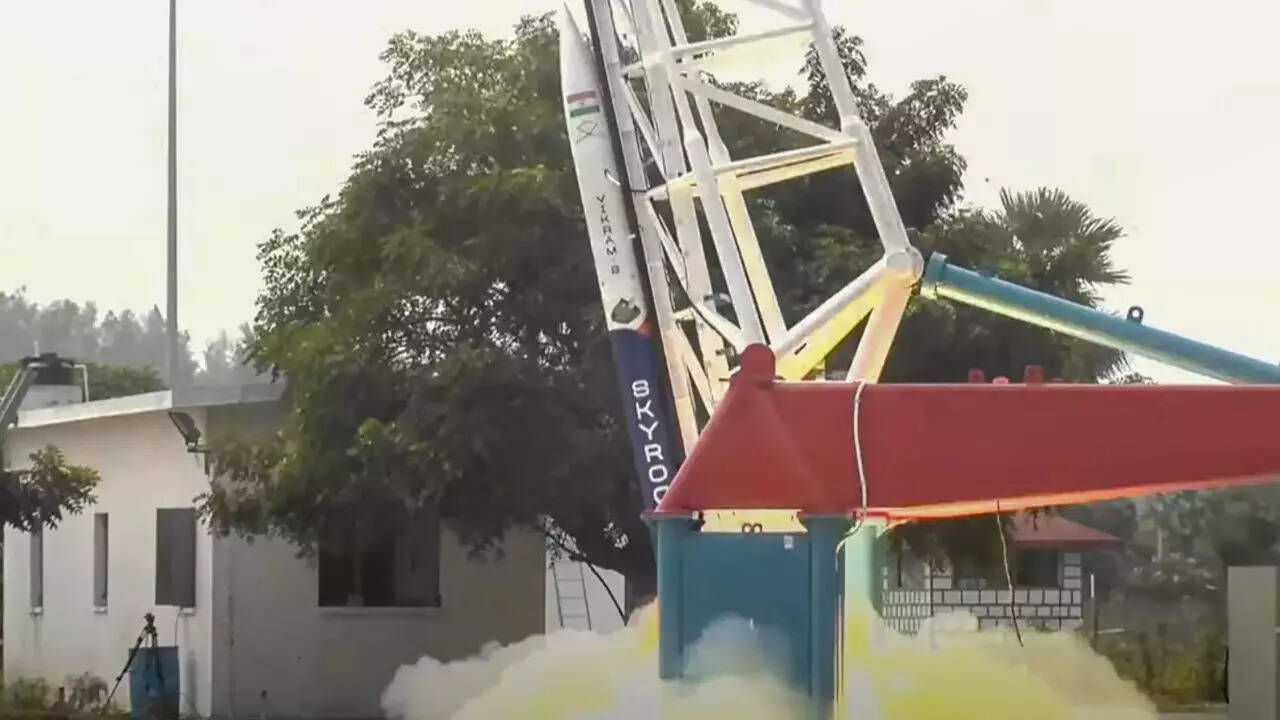 HYDERBAD: Spacetech startup Skyroot Aerospace, which created history by sending India's first privately built rocket —Vikram-S — into suborbital space last year, is gearing up to launch India's first orbital space launch vehicle in the first quarter of 2024.
The Hyderabad-based startup on Tuesday unveiled the seven storeyed, multi-stage launch vehicle — Vikram-1 — that has a payload capacity of around 300 kg and the capability to place satellites in lower earth orbit (LEO).
Vikram-1 is India's first all-carbon fibre bodied rocket and is equipped with 3D-printed liquid engines, Skyroot co-founder & CEO Pawan Kumar Chandana said, adding that while the first Vikram-1 mission will be partly commercial it will be followed up by around 3-4 Vikram-1 missions over the next one and half years before Skyroot goes fully commercial and guns for revenues.
Set up by two former ISRO scientists in 2018, Skyroot, which has already raised Rs 526 crore so far and plans to raise a bridging round soon, also inaugurated India's largest private integrated rocket development facility under a single roof.
Spread over 60,000 sq ft, the new facility, which is located adjacent to the Hyderabad international airport at Shamshabad, will house Skyroot's integrated design, manufacturing and testing facilities for building rockets and will have a capacity to accommodate around 300 employees.
The site will also be home to Skyroot's headquarters – christened MAX-Q, which is the maximum stress that a rocket has to push through during its journey into space.
Skyroot co-founder & COO Naga Bharath Daka said the startup aims to provide affordable, reliable and cost effective launch solutions from India to the world for a plethora of satellite constellations that are going to come up over the next decade.
Inaugurating the new facility and unveiling Vikram-1, Union minister of state for science & technology Dr Jitendra Singh said these were the brightest times for India with over 150 space tech startups today vying for a slice of the private space market after the government unshackled the sector in 2020.
Pointing out that earlier India used to take cues from developed countries, Singh said but today the world is waiting to take cues from India referring to the successful Chandrayaan-3 mission which made India the first country to make a soft landing on the moon's south pole.
He said though India's space sector is pegged to grow to around $40 billion by 2040 from the existing $8 billion by some estimates, the number may well reach $100 billion by 2040.
Watch
First Look: Vikram-1 Orbital Launch Vehicle made by Skyroot Aerospace will leave you awestruck