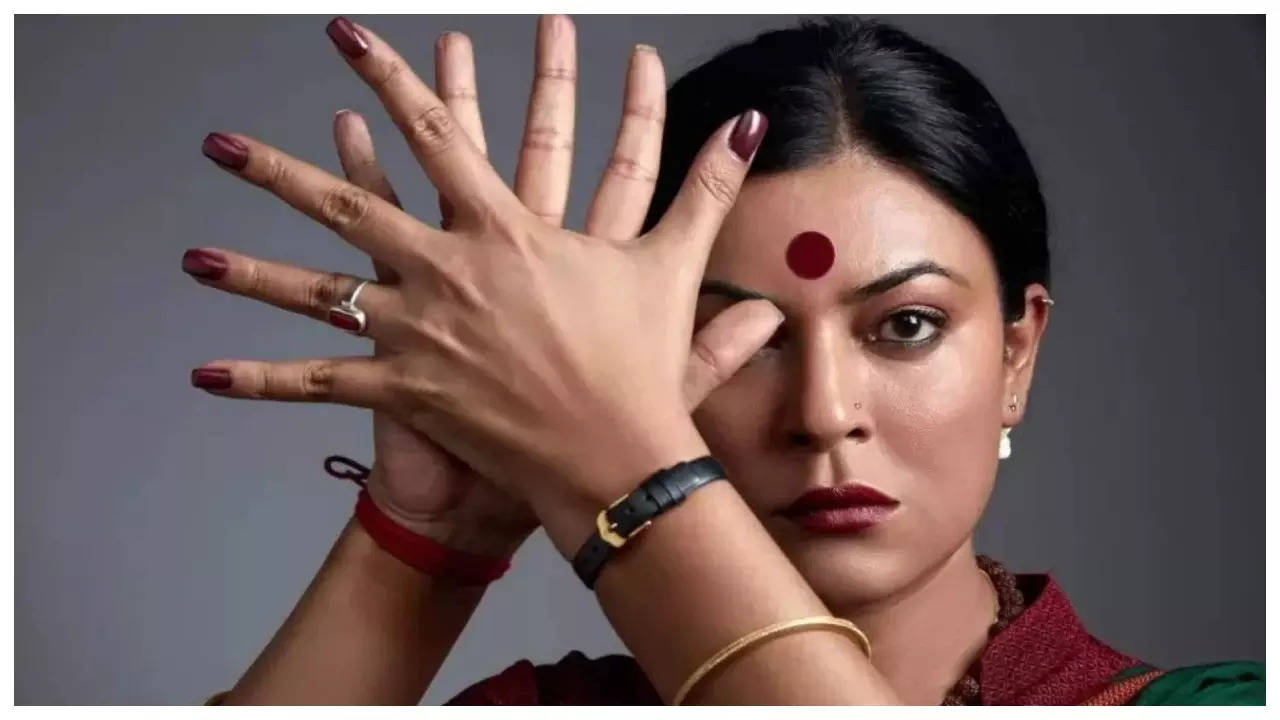 On the occasion of Independence Day,
Sushmita Sen
brings a tale of trials, tribulations and triumphs of the human spirit with her new web series 'Taali', based on the life of transgender activist Shreegauri Sawant. Directed by National Award-winning filmmaker Ravi Jadhav, the biographical drama series will bring to screen the true events that lead to the inclusion of the third gender on every official document in India.
The road to its release was not free of controversy, with some raising objections over the casting choice. Over a telephonic conversation, the show's creators Arjun Singgh Baran and Kartk D Nishandar shared their idea behind the series and cleared the air on the casting controversy. They also let us in on the active decision to hire members of the transgender community while bringing this story of a 'mother' to screens. Excerpts:
How did you'll arrive at the idea of making this web series Taali?
We wanted to tell a story about the transgender community in India. Till almost 2014 or 2015, transgenders didn't even have the right to have a death certificate until this one transgender, along with others, went to the Supreme Court and filed a petition to get an identity for themselves.
We want to tell stories which would change the game, and which would also talk about some unsung heroes who are trapped in the world. So that's the reason we are bringing Taali to you.
What was it about Shreegauri Sawant that made you want to craft this very personal story about her life and work, and adapt it for screen?
In the transgender community today, we know of Shreegauri Sawant and her major achievements. But people don't know that she was the one who went to the Supreme Court and filed this petition to fight for the transgender community. We were drawn to the idea that so much has changed in society because of this 2014 judgment. She's also one of the first transgender mothers who adopted a child. So, she has not only fought for a cause but also went ahead and did a lot of things to benefit the community and children.
What were some of the inputs she gave for this web series?
There was a lot of input from her. She sits with you, and she chats with you. We never knew that transgenders didn't have the right in the constituency of India to even have a death certificate. There were instances where they had to go for an education degree but there was only Male or female and no 'other' category. So they didn't know which box to tick because they were neither female nor male.
We incorporated a lot of things into the show. So it's the inputs that come from her, the inputs that come from other transgenders – when they become transwomen. What they follow, the things they do, their customs.
When she trying to change the system, it was not like everybody was happy about it. What she was trying to do was to get transgenders into the mainstream. India is the only place in the world where all the transgenders stay in ghettos. This was all very shocking.
Was Sushmita Sen always the first choice for Taali?
Sushmita was always our first choice. Before approaching Sushmita, we spoke to Gauri, and she was like, 'No, I want Sushmita to be on the show!' And then, of course, you have the world audience, not only the Indian audience, because people relate to Sushmita across the globe. She was the first choice, and always the only choice.
What was everybody's reaction when she came on board this project?
When she read the script, she was super excited. She lived with the script for six months. When she first read it, she said, 'I want to do it, but I just want to live with the story. In the world of Gauri Sawant'.
We were not even sure that she was going to do it, because she took so long and we were constantly asking each other, 'Is she really going to do this?' You know, because we were excited about it and Gauri was excited about it and even Sushmita. But she had questions about the shoot. She asked us, 'How will you show me when from a man I become a woman and wear a bra? What is in your mind as creators of the show? I want to know, how you are going to be shooting this entire thing.'
She took six months to finally sign on the dotted line.
In Bollywood, and most other Hollywood and international films, you usually have a male actor cast to play a trans woman. What was the thought behind casting Sushmita?
When we met Gauri, she had a red bindi on her forehead. She wears it because she was very close to her mother. That bindi was also the epitome of the look we created for Sushmita.
We have seen Akshay Kumar and Nawazuddin Siddiqui play transgender on-screen, but for the first time, we have a female actress portraying this particular role. It is simply because this is a story about motherhood. You're just not telling a story of a transgender or a trans woman, you're telling a different story.
If you do not believe that you are a mother, how are you going to portray that role? Sushmita being someone who has two daughters, knows what it is to be a mother and one who has adopted a child.
Also, when you see Gauri, she is really pretty and elegant. The way she dresses, the way she talks, she's a woman! This is why we wanted a woman to play this role and not a man who seems to have become a caricaturist.
But then, some would argue that it is the job of an actor – to become the character, he or she is playing.
So the role is a transition from a boy named Ganesh to a girl Gauri. Sushmita is a boy for almost 50% of the show. So, as it is difficult to play a trans woman, it is more difficult to play a boy, and Sushmita has played 25-year-old Ganesh's character. So it's actually the reverse, a female playing a boy's character and then moving on to become a trans woman.
What precautions have you all taken especially while trying not to offend sentiments and the LGBTQ+ community? Recently Adipurush received backlash over the dialogues, so how have you all tried to avoid controversy?
The biggest research that we did around the show, was through Gauri, and seven to eight people from the transgender community. Even on the set, we gave work to a lot of transgenders, close to around 2,000 of them were working on this project.
We tried to keep that core of the series very tight. Sushmita had an acting workshop with Atul Mongia, one of the senior-most acting coaches in the country today. Some nuances, like the way a transgender walks, how they talk, their reaction or emotion. Sushmita's walk as Ganesh is different from how she walks as Gauri. The way she talks and other intricate details were detailed in the scripting stage and the pre-production stage.
How do you hope this show will stand out in overcrowded OTT space?
We are very sure that this story is something which should not be a documentary. It is an out-and-out commercial story which is being portrayed by someone who is so exclusive that the whole world wants to stand and watch.
What makes it stand out differently is that you've never seen a female actor portraying a trans woman, to my knowledge. And this show has someone as popular and as exclusive as Sushmita playing this role.