Tim McGraw has been a pioneering figure in country music for more than 30 years ― but he insists his life and career wouldn't be where they are without the ongoing support of his wife, fellow musician Faith Hill.
In an interview this week to promote his new album, "Standing Room Only," the three-time Grammy winner gushed about his nearly 27-year marriage to Hill, whom he described as "one of the greatest artists of all time."
"I guarantee you, had I not gotten married to Faith at 29 years old, A, I probably would've ran my career into the ground," McGraw told Apple Music's Zane Lowe, "and B, I would've died already with my career into the ground — one or the other, and it wouldn't have ever been where it's at now."
McGraw married Hill in October 1996 in an intimate ceremony at his aunt's Rayville, Louisiana, home. The couple share daughters Gracie, 26, Maggie, 25, and Audrey, 21.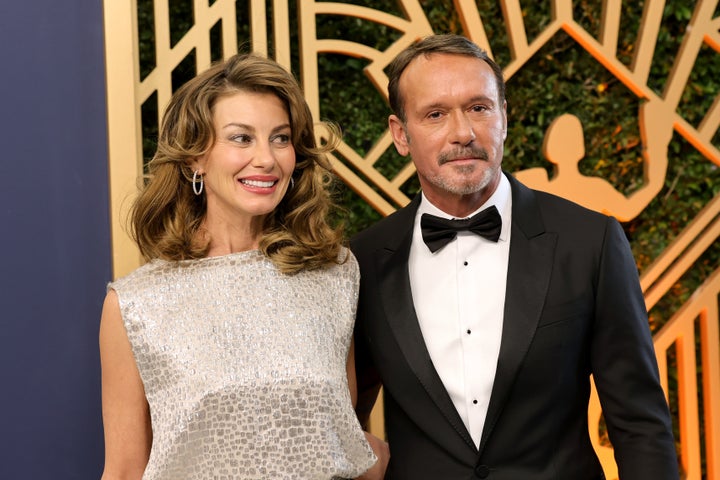 As is the case in most marriages, however, the pair have had their ups and downs. Speaking to Esquire in 2021, McGraw cited Hill as his inspiration for getting sober in 2008.
"I remember a moment when I was getting out of bed and going to the liquor cabinet and taking a big shot at 8:00 in the morning and thinking, I have to wake the kids up," he recalled. "I went straight to my wife and said, 'This is where I'm at.' I was scared. She just grabbed me and hugged me and changed my life."
He touched on his past experiences with addiction once again in his Apple Music interview, noting: "I think when the kids got old enough that they could notice things is when she finally said, 'You've got to figure this out.'"
Hill and McGraw's partnership extends to their professional lives, too. In 2017, they released their first collaborative album, "The Rest of Our Life." Last year, they co-starred on "1883," an Emmy-nominated spinoff of "Yellowstone."
Elsewhere in his Apple Music chat, McGraw said he continually seeks Hill's advice when it comes to making music.
"I'm always playing her the songs that I want to record and playing the mixes as I'll go along, and there's times we don't agree," said McGraw, who described Hill as a "brutal" but "honest" critic. "There's times where she goes: 'I don't like the way that sounds.' 'Well, I do, and that's the way it's going to stay.' And the same thing when she's making a record."
Watch Tim McGraw's full Apple Music interview below.