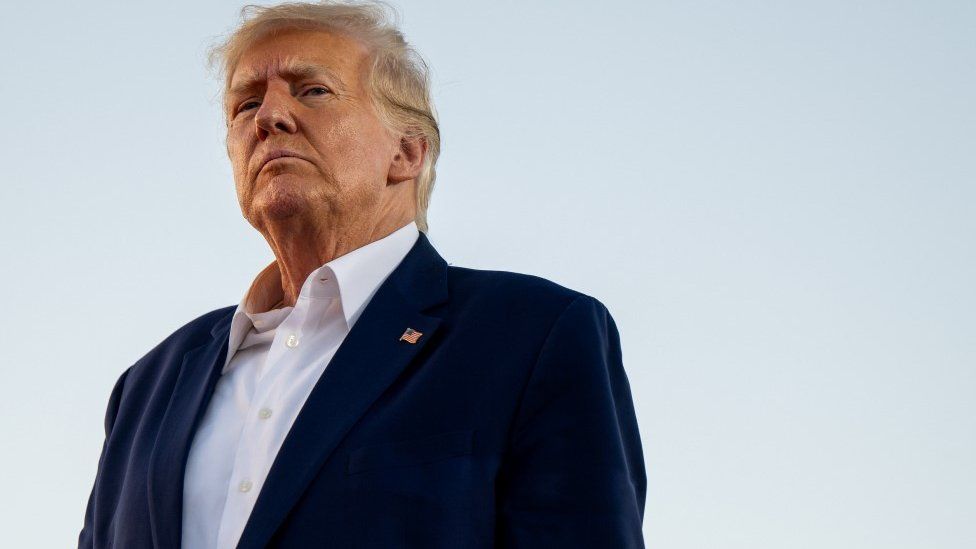 Former President Donald Trump is facing dozens of criminal charges and will go on trial several times in the next 18 months.
His legal problems are mounting as he campaigns to become president again in the 2024 election.
Here's a guide to what is going on.
What just happened to Trump?
On Monday night, a prosecutor in the US state of Georgia laid out a number of charges levelled at the Republican former president.
He is accused of engaging in a conspiracy to steal votes cast in 2020 for Democrat Joe Biden, and effectively overturn his narrow defeat in the state.
There are 13 charges against Mr Trump laid out in a document which is called an indictment. It's his fourth indictment this year.
What does it mean to be indicted?
An indictment is when a person is formally charged with a crime and they must then appear in court to enter a plea.
Mr Trump has appeared in court three times already to face other charges and denied them all.
He must do so again in Atlanta, Georgia, before Friday 25 August.
What do Trump's other indictments accuse him of?
The first indictment in March accused Mr Trump of false accounting to cover up a payment he made to an adult film star, Stormy Daniels.
That $130,000 was to buy her silence about an alleged affair – a relationship he has always denied. He will go on trial in New York.
Then he was charged in Florida with illegally hoarding classified files at his estate there, Mar-a-Lago, and refusing to hand them back when asked.
His third indictment was unveiled two weeks ago in Washington DC.
Like the most recent charges in Georgia, that one accused him of trying to cling to power by interfering with the 2020 election results.
It also accuses him of repeatedly airing the false claim he had won that election.
The prosecutor said these "lies" had "fuelled" his supporters to attack the US Capitol in January 2021, violence which made headlines around the world.
What's the difference between state and federal charges?
Two of the four indictments – in New York and Georgia – are brought by prosecutors at state level.
The other two, in Florida and Washington, involve federal charges brought by the US government.
This difference has implications for the way the trials will be conducted.
For instance, the trial in Georgia could be televised but the others ban cameras in court.
If Mr Trump does become president, he would have the power to influence the federal cases, even possibly getting them dropped.
Can Trump still run for president?
Yes, there's nothing in the US constitution to prevent Mr Trump from continuing his election campaign even though he has been charged with multiple crimes.
But there are practical considerations.
Trials can last for weeks and he will be required to sit in court throughout, not to mention paying for a legal team.
All this would be a major drain on his time, energy and election cash at a time when he would prefer to be holding rallies and meeting voters.
His support remains undiminished, however. He has strengthened his hold on the Republican race and remains the frontrunner to face Joe Biden again next year.
Could Trump be jailed?
Many of these charges are more likely to mean a fine rather than a prison sentence if convicted. But some are serious and could theoretically result in time behind bars.
Even if Mr Trump was imprisoned, he could still continue his run for president and win an election.
In 1920, Socialist Party candidate Eugene Debs got a million votes while in prison.
What has Trump said in his defence?
He has repeatedly denounced the prosecutions as politically motivated, deliberately aimed at derailing his presidential ambitions.
The latest charges in Georgia were "shocking and absurd", his lawyers said, relying on witnesses with political interests.