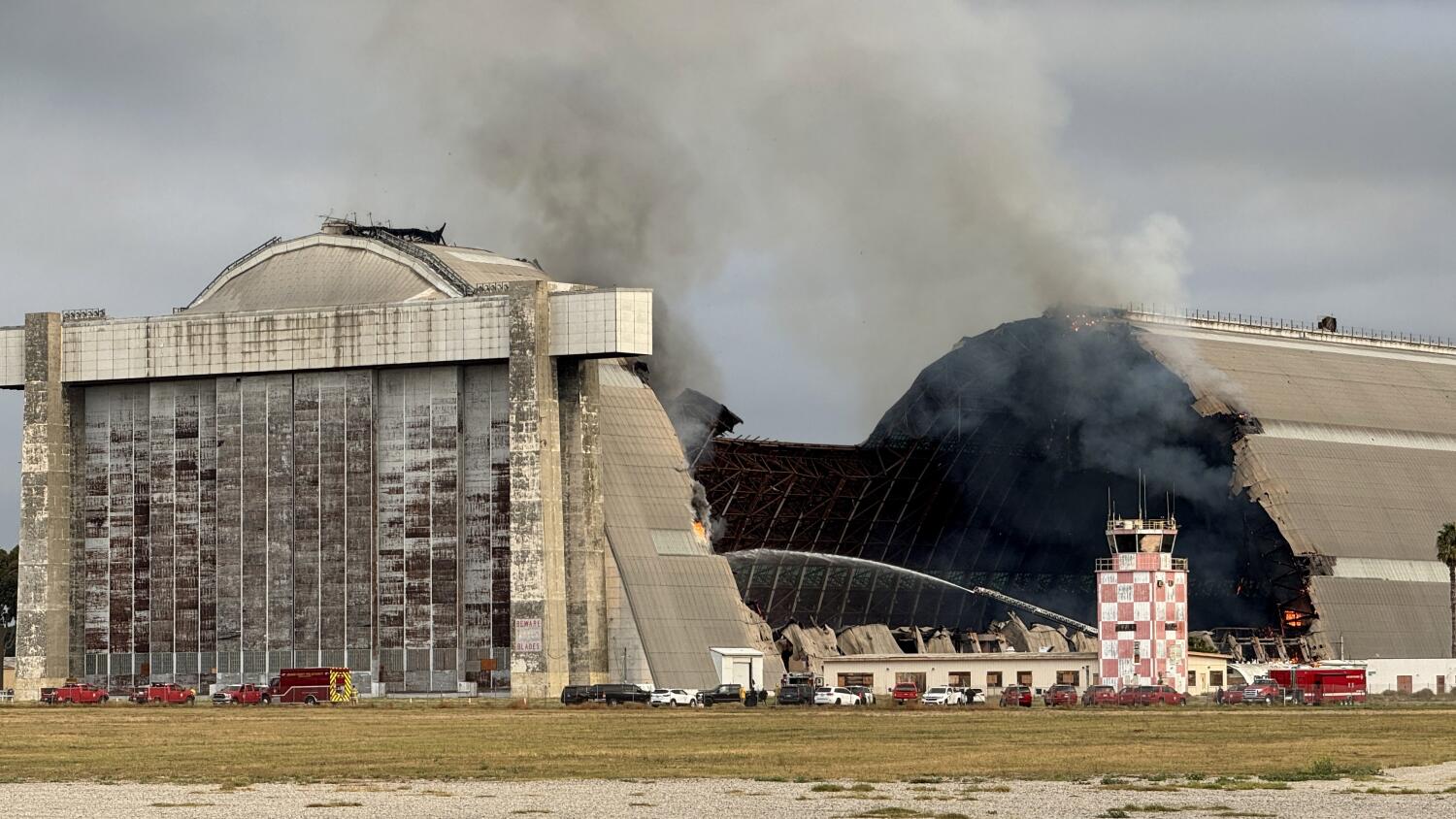 Film location manager Steve Woroniecki remembered getting lost in the vastness of the north blimp hangar in Tustin.
The World War II-era hangar had a way of challenging people's sense of scale — it made a quarry dump truck look like a toy car; it reduced a blimp to a miniature model of itself.
This excited Woroniecki and the production team for the 2009 "Star Trek" reboot, which needed a building large enough to pose as a futuristic hangar in the year 2258 that would house Star Fleet space shuttles.
"When you walk in, it's very ominous," he said, then recalled bending his neck to gawk at the towering wooden arches. "It was perfect for what we wanted to do."
The hangar would have its Hollywood moment in a scene where Starfleet cadets, including a young James Kirk, launched from its gates on the USS Enterprise's maiden voyage. Toward the film's conclusion, it is inside the hangar where Spock meets his future self — the younger character played by Zachary Quinto, the elder played by Leonard Nimoy — in a symbolic passing of the torch within the classic sci-fi franchise.
On Tuesday, as flames tore at the north hangar's core, not only did a piece of wartime history fall to ash but also a landmark significant to cinema. And "Star Trek" wasn't its first closeup.
The north hangar served as a film location for several WWII period dramas, including "Pearl Harbor" in 2001 and "The Hindenburg" in 1975, as well as "The Man's Navy," which was shot and released in 1945 during the actual war, according to military historian Mark Carlson's book "Flying on Film: A Century of Aviation in the Movies." In "Pearl Harbor," Air Force Gen. Jimmy Doolittle, played by Alec Baldwin, used the hangar and tarmac to train his pilots, played by Ben Affleck and Josh Hartnett, as they prepared to fly B-25 bombers on a mission into Japan.
Other films and TV shows were shot at the nearby south hangar, located on the same former U.S. air base that closed in 1999. The south hangar, which was untouched by Tuesday's fire, is nearly identical in size and appearance. Its interior was transformed to become the surface of the moon for the 1998 HBO miniseries "From the Earth to the Moon." In Season 6, Episode 12 of "The X-Files," the south hangar shows up as the meeting place between U.S. government leaders and extraterrestrial rebels. The episode aired in 1999.
That same year, "Austin Powers: The Spy Who Shagged Me" used the base to operate a time machine in the shape of a Volkswagen Beetle that would transport Mike Myers' comedic character back to 1969. It's unclear, however, which of the twin hangars gets to claim credit for that scene.
"We in the film industry are always very excited about cavernous, large, historic spaces like this," said production manager Scott Trimble, referring to both hangars. Trimble, a board member of the Locations Managers Guild International, also was a location manager on "Star Trek" and recently worked on "The Book of Boba Fett" and "Snowfall." "Because they look so incredible for filming," he continued. "So any time we lose any kind of place like this, it's tragic and it makes it harder to find a filming place for the next time."
Crews started to hose down the fire around 1 a.m. Tuesday.
Becky Brake, who was the head location manager on "Star Trek," said she was sad throughout the day as she read articles about the fire and watched TV news broadcasts that showed flames engulfing the structure. She hoped at least some portions of the building would survive.
"It's such a shame that we're losing such an iconic building," she said.
By around 5 p.m., the blaze was brought under control, according to the O.C. Fire Authority, which tweeted that firefighters would remain on-site overnight. What remains of the structure will eventually be demolished, fire officials said.
In recent years, the north hangar has lain dormant. In 2013 it was damaged in a windstorm that made it too unstable for use. It has remained off-limits to film crews.
But that didn't stop three people from trespassing and scaling the building in 2019. One of them, a teen, who was found unconscious, had to be airlifted from the top of the north hangar.
The south hangar remains active for shoots and has been used for numerous car commercials, a Disneyland ad, car expos and other events such as film screenings.
Real-life structures like the north and south hangars stand out in an era in which many large-scale structures are often computer-generated. Productions often elect to shoot scenes in warehouses full of green screens.
"There's definitely some realism in filming in an actual environment," Trimble said, adding that it improves the actors' performances when they can "feel all the space around them," instead of just "a green wall."
And audiences are beginning to notice the difference and are getting tired of the computerized displays, Brake said.
"We're definitely in a time when the audience is experiencing CGI fatigue," she said. "There's something that shows up onscreen [in real locations] — even just the smell, the air, the movement, the vibration, the texture of it — it feels like it shows up on film somehow."