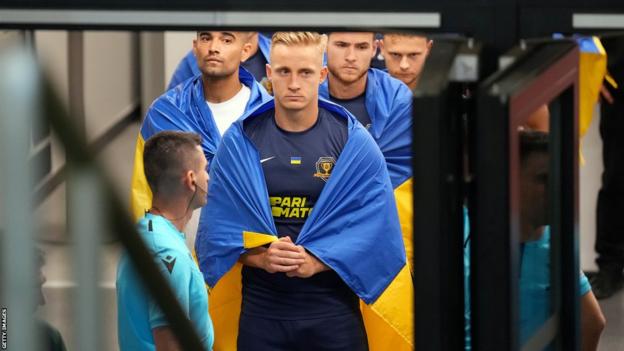 Ukrainian top-flight teams Dnipro-1 and FC Oleksandriya played out the longest match in the league's history, with the game ending four hours 36 minutes after kick-off following multiple air-raid warnings.
The match on Monday evening, played at the Dnipro Arena in the eastern Ukrainian city of Dnipro, kicked off 15 minutes late because of an air-raid siren.
The home side took the lead in the 34th minute but the players were marched off the pitch again early in the second half.
Oleksandriya scored soon after the restart – only for it to be chalked off by VAR after an hour's delay caused by another siren.
With one minute left of normal time, the match was postponed for a further hour and a half following another air-raid warning.
The 1-0 win in the game, which kicked off at 17:15 local time and ended close to 22:00, leaves Dnipro-1 in second place in the Ukrainian Premier League.
Defender Eduard Sarapiy told the club website his team were desperate to finish the match.
"This is the first such long game for us, and it could have ended badly for us. We wanted to play all of the game. We took to the pitch and tried to finish the game only by winning it," he said.
The Ukrainian Premier League told the BBC that it was the longest game in its history.
"The match lasted four hours 36 minutes, and this is a new record. The previous longest match was last season's game between FC Rukh and FC Metalist, which lasted four hours 27 minutes. The reason was the same – an air-raid siren," the league said.
Dnipro returned to playing their home games at the Dnipro Arena in September, after relocating to western Ukraine following Russia's full-scale invasion of the country in February 2022.
While Dnipro is located some distance from the front line, an elderly man was reportedly killed in a Russian air strike in the region a day before the game.