NEW DELHI: On this day in 2008, 15 years ago, India batting stalwart
Virat Kohli
took his first steps onto the international stage, marking his debut in an ODI match against Sri Lanka.
Merely a few months prior to the Sri Lanka series, Virat had etched his name into the annals of history by leading India to victory in the ICC U19 Cricket World Cup. Much like many U19 captains before him, he had compellingly presented his case for adorning the Indian cap in the future.
He amassed 235 runs in six matches at an impressive average of 47.00, including a century against West Indies during the group stages.
In tandem with his Delhi compatriot Gautam Gambhir, Virat opened the batting against Sri Lanka but could only manage to contribute 12 runs.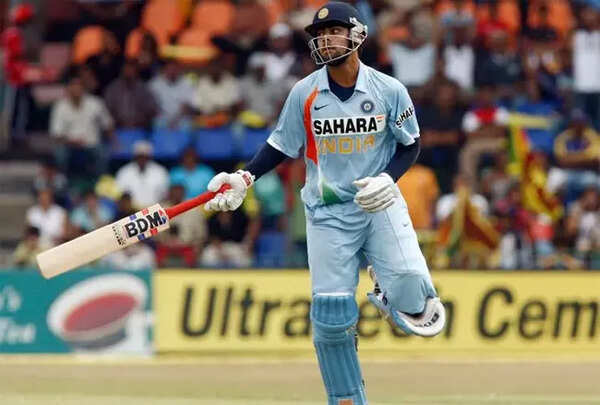 Virat Kohli (BCCI Photo)
Despite this initial challenge, the young prodigy finished his maiden series with commendable figures – scoring 159 runs in five matches at an average of 31.80, securing his inaugural half-century in the fifth ODI.
While many had foreseen Virat's international success based on his talent and U19 achievements, the extent of his accomplishments in the years to come was astonishing, even to his most ardent supporters.
Year after year, Virat established himself as a paragon of consistency across all formats, becoming a cornerstone of the modern-day 'Fab Four' batting quartet alongside Australia's Steve Smith, New Zealand's Kane Williamson, and England's Joe Root.
Since his debut, Virat has participated in 111 Test matches. Following his Test initiation against West Indies in 2011, he overcame initial struggles, where he managed a mere 76 runs in five innings, to cement his status as a significant ambassador of red-ball cricket. Accumulating 8,676 runs at an average of 49.29 in 187 innings, he boasts 29 centuries, 29 fifties, and a personal best of 254*.
His Test run tally places him as the fifth-highest scorer for India and the 23rd highest overall, trailing behind the illustrious Sachin Tendulkar's all-time record of 15,921 runs in 200 matches with 51 centuries. Among Indian players, Virat stands fourth in terms of centuries achieved in Test cricket. Notably, he has achieved the feat of seven double centuries, the highest by any Indian player.
Virat's leadership legacy in Test cricket is remarkable. Having captained India in 68 Test matches, he secured 40 victories, endured 17 losses, and witnessed 11 draws, reflecting a win percentage of 58.82. He steered India towards becoming a formidable force on home soil, orchestrating memorable Test match and series triumphs in England, Sri Lanka, South Africa, Australia, and the West Indies.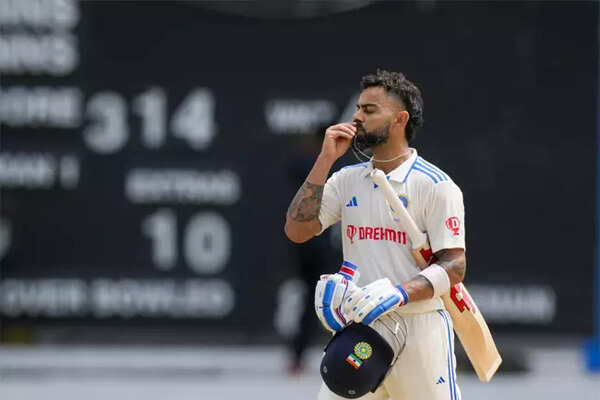 Virat Kohli (AP Photo)
His tenure also fostered the development of a world-class pace bowling unit, including the likes of Jasprit Bumrah, Mohammed Shami, Umesh Yadav, Ishant Sharma, and Mohammed Siraj. A particularly significant accomplishment was his guidance of India to secure five consecutive ICC World Test Championship maces from 2017 to 2021.
Virat's most dominant format is One Day Internationals (ODIs). In 275 ODIs, he has amassed an astounding 12,898 runs at an average of 57.32. This feat includes 46 centuries and 65 half-centuries in 265 innings, with a highest score of 183.
His ODI record places him as India's second-highest run-getter, trailing behind Sachin Tendulkar's 18,426 runs in 463 matches, including 49 centuries. On the global stage, Virat ranks fifth in terms of overall runs scored. Furthermore, he holds the second-highest number of ODI centuries and continues to pursue a half-century of ODI centuries. His average in excess of 50 among ODI players with at least 150 matches underscores his unwavering consistency and the value he places on preserving his wicket.
Virat's milestones in ODI cricket are exceptional – he is the third-fastest to reach 5,000, 6,000, 7,000, 8,000, 9,000, 10,000, 11,000, and 12,000 ODI runs.
In his role as ODI captain, Virat's record is notable. Leading the team in 95 matches, he clinched victory in 65, suffered defeat in 27, tied one, and saw two matches ending with no result. This translates to a win percentage of 68.42.
Virat was a pivotal part of the team that secured the 2011 ICC Cricket World Cup and the 2013 ICC Champions Trophy. He guided the team to the semifinals of the 2015 and 2019 Cricket World Cups, as well as the final of the 2017 ICC Champions Trophy.
In 26 World Cup matches, he garnered 1,030 runs at an average of 46.81 in 26 innings, marked by two centuries and six half-centuries, with a highest score of 107. He also excelled in the ICC Champions Trophy, scoring 529 runs in 13 matches at an average of 88.16, accompanied by five half-centuries in 12 innings. However, his inconsistency in knockout matches attracted criticism.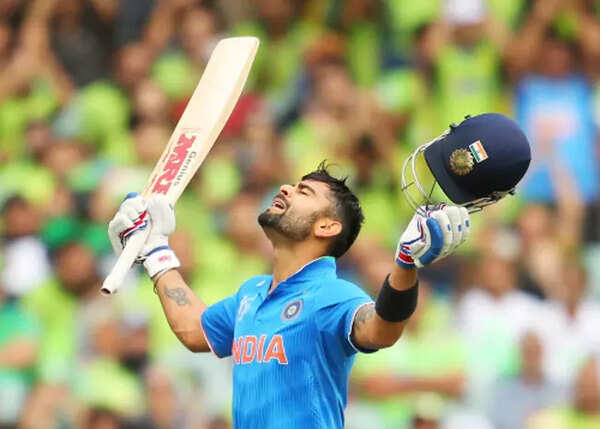 Virat Kohli (Photo by Scott Barbour/Getty Images)
In an era where the T20 format emphasizes attacking batting, Virat adeptly combines strategic aggression with situational adaptability, making him a towering figure in T20I cricket. Over 115 T20Is, he has amassed 4,008 runs at an average of 52.73 and a strike rate of 137.96. With one century and 37 half-centuries to his credit, his highest T20I score is an unbeaten 122*.
Virat boasts the highest aggregate of runs, the most half-century-plus scores, and the highest average in T20I cricket history. He also claims the most 'Man of the Match' awards (15) and 'Man of the Series' awards (seven) in T20Is.
Within the realm of ICC T20 World Cups, Virat's stature as an all-time great is irrefutable. His tally of 1,141 runs in 27 matches and 25 innings at an average of 81.50, with a strike rate of 131.30 and 14 fifties, positions him as the most dependable player in the tournament's history. He has performed remarkably in the knockout stages of the tournament, amassing half-centuries in all such matches. Remarkably, he earned the title of 'Player of the Tournament' in both the 2014 and 2016 editions of the tournament.
On the whole, Virat's all-format statistics are astounding. Amid the advent of T20I cricket and an intensified workload, Virat's consistent performance in terms of runs and appearances across all formats positions him as arguably the best all-format batter to have ever graced the game. Over 501 matches, he has tallied an impressive 25,582 runs at an average of 53.63. Across 559 innings, he has marked 76 centuries and 131 half-centuries, with a highest score of 254*.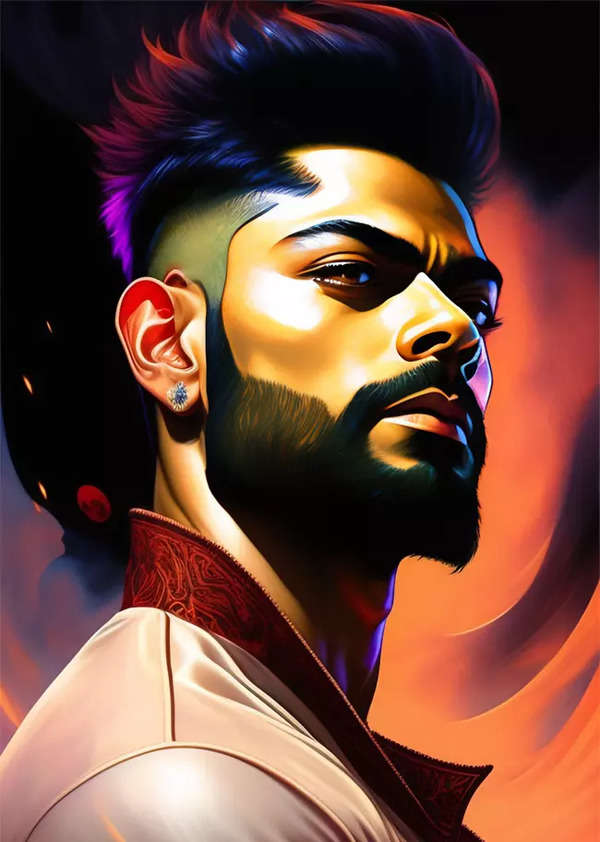 His stature as India's second-highest run-scorer and the fifth-highest overall in international cricket places him on a trajectory to challenge the records set by his idol Sachin Tendulkar – 34,357 international runs, 664 international appearances, and 100 international centuries. Moreover, he holds the distinction of receiving the most 'Player of the Series' awards in the history of the game.
These remarkable achievements culminated in Virat receiving the ICC 'Player of the Decade' award for the period spanning 2011 to 2020.