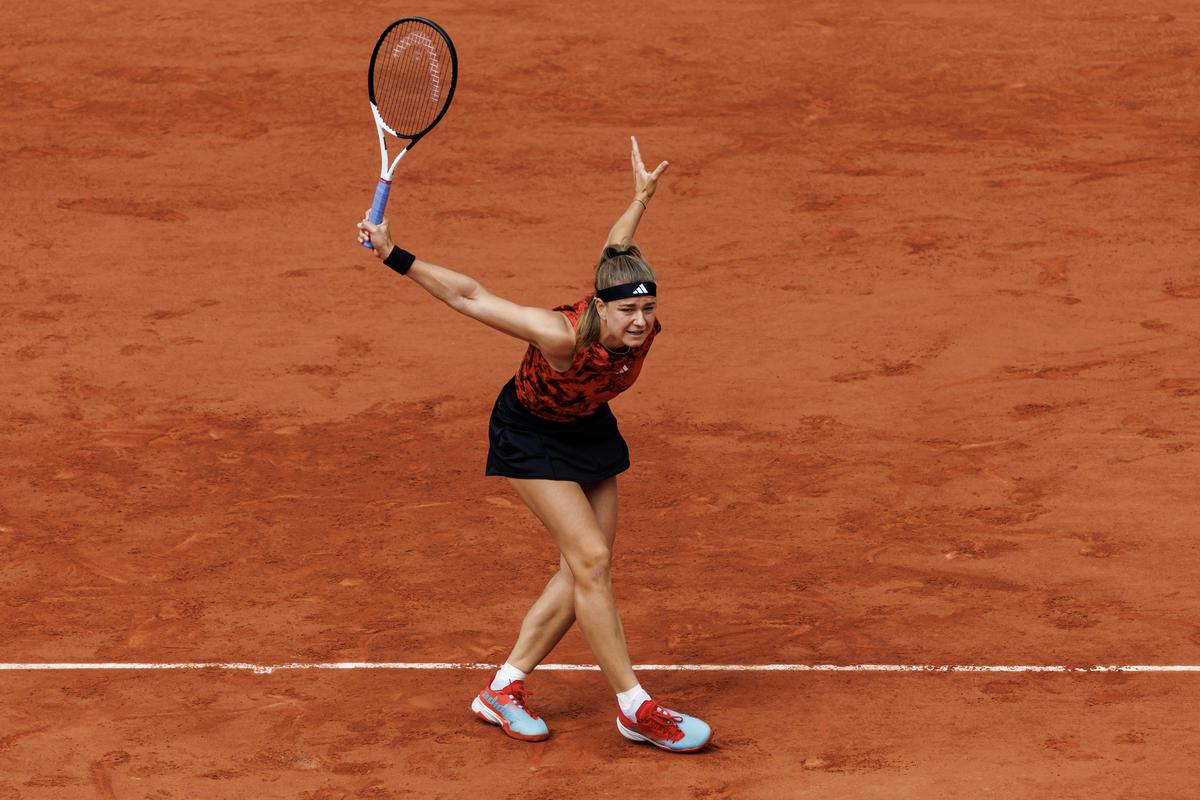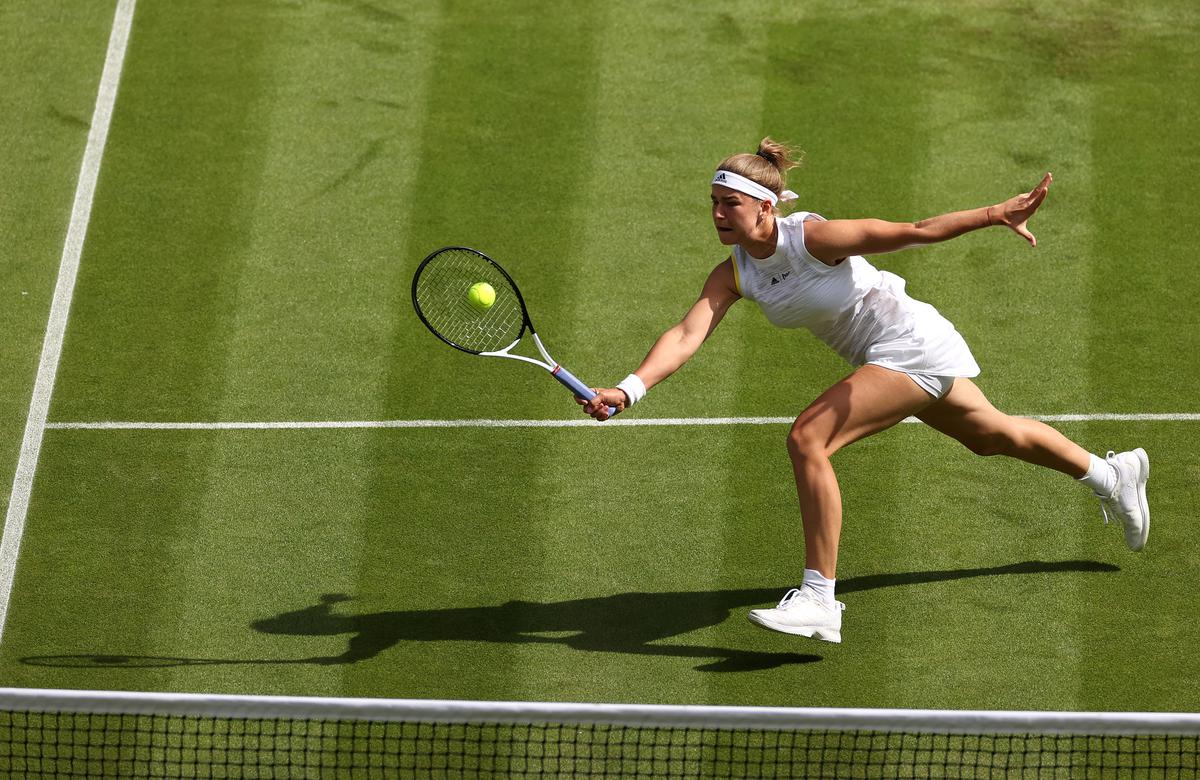 Around this time last year, Karolina Muchova was in a wheelchair. An ankle injury had ended her French Open. It was another setback for the injury-plagued Muchova, who had been sidelined for seven months in 2021-22 with an abdominal problem. Once a top-20 player, her ranking declined — she found herself at No. 235 last August, with doctors asking her to reconsider playing professional tennis because they feared her body couldn't withstand the rigours.
It was one of her lowest points, especially because she had already had to deal with a series of injuries as a teenager competing in the juniors, which had hindered her development as a player. "There have been many lows, I would say, from one injury to another," said Muchova. "For sure when I missed the Australian Open last year, and I was in a pretty bad state health-wise, some doctors told me maybe you'll not do sport anymore. But I always kept it kind of positive in my mind and tried to work and do all the exercises to be able to come back."
This comeback, which featured quarterfinal runs in Auckland, Dubai, Indian Wells and a return to the world's top 50, peaked at Roland-Garros. Over a fortnight on the Parisian red clay, Muchova captured the imagination with a brand of vibrant, creative tennis that is rarely seen on the Tour. 
The 26-year-old Czech compiled an impressive list of victims, which included World No. 8 Maria Sakkari, 2021 Roland-Garros runner-up Anastasia Pavlyuchenkova, and Australian Open champion and World No. 2 Aryna Sabalenka. Muchova then came close to winning her first Grand Slam with a spirited fightback against World No. 1 Iga Swiatek but lost 6-2, 5-7, 6-4.
"It was very close, but very far," said Muchova. "I'm a little sad but I gave my everything on the court so I have nothing to regret. The feeling is a little bitter, but to call myself a Grand Slam finalist is amazing. Because I know what I have been through in the past, [it] makes me appreciate this even more now."
Underdog story
Muchova's heartwarming underdog story captivated tennis fans, but the significance of her performance — what it means for her future and how that can impact the women's game — is just as fascinating. Clearly, her playing style matches up well against the world's best; it disconcerts them and her fighting spirit means they can't afford to relax at any stage. 
The big moments don't faze her. In fact, she often played her most adventurous tennis under pressure. And she did this on clay, not the surface that best suits her game. So it isn't unreasonable to infer that she will be a contender on faster courts, if she can stay injury-free.
Muchova's head-to-head record against the world's highest ranked players is impressive. Against top-3 opponents, she is 5-1. She became the first player to take a set off Swiatek in a Major final and had beaten the Pole on the previous occasion they met, four years ago in Prague.
"I really like her game, honestly. I really respect her, and she's, I feel like, a player who can do anything," said Swiatek. "She has great touch. She can also speed up the game. She plays with that kind of, I don't know, freedom in her movements. And she has a great technique."
Sabalenka, who held match-point against Muchova, was undone by the variety of her opponent's play. The Belarusian's brutal power was constantly challenged by a mix of one-handed backhand slices, drop shots and audacious volleying. "She always plays great tennis, coming to the net, playing really aggressive," Sabalenka said. "Like if she sees these short balls, she's coming to the net, so it's a little bit tricky to build a point against her." 
Muchova's eye-catching athleticism allows her to play such a thrilling style, but the diversity of her game flows from a conscious choice. "I don't really want to be like anyone else," she said. "It's the type of game I enjoy, and I believe in." 
Smart, sharp, different
It's not surprising that her tennis idol is Roger Federer; the words she used to describe his style — "It's smart, it's sharp, it's different" — apply to her too. Martina Navratilova and Mats Wilander are among the many former players who have been struck by how Muchova approaches a point.
"She's old-school, classic tennis all around," said Navratilova, whose brilliant serve-and-volley game won her 18 Grand Slam singles crowns, including a record nine at Wimbledon. "No massive weapon, but her biggest weapon is her variety."
Wilander, who claimed seven Grand Slam singles titles, was effusive after watching Muchova at close range. "Tennis-wise, she is incredible, she might be the most complete tennis player on the women's side," he said. "So with a bit of confidence, which she has now, she can disturb anyone. Her on that grass court in Wimbledon, that is going to be absolutely sensational." 
Muchova, who climbed to a career-high 16th in the rankings after her Roland-Garros performance, is optimistic about the rest of the season. 
"I have always believed, but now that I actually achieved it [making a Grand Slam final], it's a very nice and warm feeling," she said. "It's very big motivation, knowing that Iga is World No. 1 and I was so close. It's good for the confidence. It says to me that I'm able to do this, to do these big results. I will for sure try to get there again and fight for the title."
Muchova will switch her focus to the grass-court season and Wimbledon, knowing that her game suits the lawn. She made the quarterfinals in her first two appearances (2019, 2021).
At Roland-Garros, she followed her serve to the net and pulled off some jaw-dropping stretch volleys on several occasions. That approach as well the backhand slice she uses as a variation to her regular double-fisted ground-stroke will serve her well on grass.
"I didn't expect that much on the clay, honestly. It's not my favourite surface but I think I can play good on it," she said in Paris. "I look forward to playing on the grass, on the fast surfaces, that's for sure the surfaces I prefer and I like more. The main focus is obviously Wimbledon."