INDIANAPOLIS  — 
Brent Terhune speaks in soft syllables and walks in hushed steps. But his avatar, a red-bearded, pissed-off man with a MAGA streak and working-class insecurities, rants like a storm. He's angry about Disney's Black "Little Mermaid," wants to ban books that threaten him with new ideas and doesn't know why on God's "flat Earth" Donald Trump had to sit for a mug shot but not George Washington.
Wearing wrap-around sunglasses and an Indianapolis Colts hat, Terhune, looking like a cross between a military contractor and a mechanic, tips an "emotional support beer" while filming tirades in his car against whatever liberal provocation is trending in the news. He appears ready to explode, carrying right-wing grievances across social media — he has millions of views on Facebook, X (formerly Twitter), YouTube and other platforms — in satire so sly some just don't get the joke.
The comedian has been called fat, stupid, a dude with no eyebrows. A psycho. Terhune's Alpha Male character is more blustery than informed. He mixes the disgruntled, everyman burden of Archie Bunker with the wild contempt of Alex Jones. He speaks to a nation tangled in conspiracies at a time when truth pales against rancor and politics is driven more by the performative than the genuine. His videos, usually running two to three minutes, open with "I just seen on Fox News" and spin into rage, bewilderment and sometimes tears.
"They fired Tucker Carlson," a bereft Terhune, 34, says in one scripted clip. "He's not on air right now to tell me what to say, so I don't know how to feel… My dad's not gonna know who to hate and it hurts." In another, he suggests books may be as dangerous as guns: "God forbid somebody walks into a school with a book. They start reading out loud. Do you really want that ink on your hands? Think about how scared the children must feel when they're doing all kinds of active reader drills. Tell me that's not traumatizing."
Terhune has been a stand-up comic for nearly two decades, but his doppelganger has lifted him to another plane, as if a mischievous meddler had suddenly muscled his way into the limelight. Terhune leans liberal but Alpha Male is aimed at the cruelness and hypocrisy across the spectrum. Trump's base, he said, is fanatical. "They'll ride or die." But liberals "will eat their own," he added. "It's like you're trying to educate your grandpa. He's on the way, but he's not there yet. But they'll just devour this person."
The popularity of Terhune's videos, like that of Oliver Anthony, whose song "Rich Men North of Richmond" went viral earlier this year, are testaments to online voices responding to a fraught cultural moment. Trump's obliteration of convention is accelerating as he campaigns for another term while facing a raft of felony charges. The American conversation has splintered across platforms and networks, much of it by progressives and conservatives yelling into screens while warning of insurrection, Hunter Biden's laptop, migrants and climate change Armageddon.
Comics like Terhune, who has done stand-up at a wedding and a nudist colony, and Trae Crowder, whose Youtube channel features his Liberal Redneck character and has more than 475,000 subscribers, are trying to make sense of what often appears incomprehensible in a national narrative that seems beyond parody. Such stirrings from the fringes and even those with larger followings, including Shane Gillis, who recently dropped a new special on Netflix, are part of a trend reacting to conservatism and mining political divides.
"There's so much emotion and pathos out there," said Rob Durham, a comic and author who uses videos by Terhune and Stephen Colbert to teach satire to his 10th-grade class in a suburb of St. Louis. "Some of my students say, '[Terhune's] not serious is he? He's not real.' If you can do it with humor it's a more gentle way to make your point. We're so high-strung and angry with one another these days that we have to bring humor."
Terhune lives with his wife, Rysha, and two cats in a small, one-story house with a fallen tree in the front yard. His neighbors include cops, a man who loads vending machines and others who mow lawns, fix roofs and tinker with windows at the edge of a cornfield near a park. Three churches are within walking distance in this community south of Indianapolis, as is the Greenwood Park Mall, which made headlines last year when a shooter armed with more than 100 rounds of ammunition murdered three people before a shopper pulled out a handgun and killed him.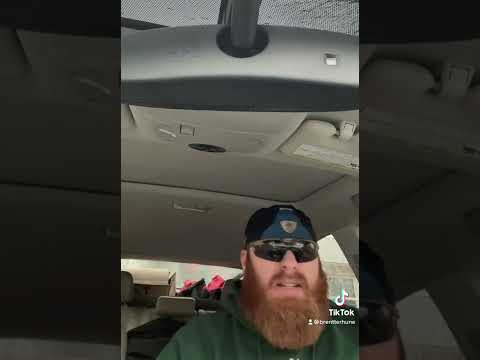 Terhune is intimate with this working-class portrait of America, its fences, porch flags, televangelists, crop prices and ragged men wandering roads with cardboard signs. It is like much of the nation, distinct but familiar, a voice in a vast and troubled chorus. He doesn't tell his neighbors about his Alpha Male character— some might take offense in a state Trump easily won in 2016 and 2020. "I'm happy to be anonymous," he said the other day, backing out of his driveway, his beard bright in the sun.
He grew up poor, a child of divorce, a Boy Scout who attended Catholic school, built a shrine for the Virgin Mary and became a fan of "The Simpsons," Conan O'Brien, Jim Gaffigan and the late Mitch Hedberg. His mother was a lunch lady and his father trucked fuel to construction sites. "We were a family of jobs and side hustles," he said. "We bought, fixed and sold used bikes. We sold cars. Always had a hustle going. It's like comedy. Feast or famine. Sometimes you're looking at a blank calendar."
Much of the year Terhune, who has nearly 400,000 followers on X, is on the road, playing clubs from Philadelphia to Provo, Utah, where he had to vow his act would be free of profanity, sex and drugs. He hosts three podcasts, including "Field Trip," which riffs on pop culture topics like alien abduction and relationship advice. He writes off-the-news jokes for "The Bob & Tom Show," a nationally syndicated radio program. He's taken online acting classes — his teacher Myra Turley appeared on "Mad Men" — and has been reading Stephen King's book "On Writing" to improve the flow and rhythm of his sentences.
"He's an excellent comedy writer," said Tom Griswold of "The Bob & Tom Show." "He practices two separate forms. His stage persona is pretty much who he is. There's a certain innocence about him." But his Alpha Male creation, said Griswold, who at the beginning of the Trump years was bothered by the divisiveness of political humor and kept it off his show, is a brash and loud "confident idiot" that a lot of people recognize as someone they might know even as they miss the satire.
"Is this satire or is this guy really as deranged as he sounds?" one man posted on Facebook.
In his video on Trump's mugshot, Terhune calls the former president his "tangerine savior" and bellows "my president and still your president. This ain't even a mug shot. A mug shot's Nick Nolte. James Brown. This is art. Look at how handsome he is, looking like Michelangelo his-self chiseled this man out of the finest butter they got down at the state fair. He's every man's nightmare and every woman's dream."
He mocks President Biden in a clip that sides with Trump allegedly taking secret documents related to U.S. nuclear and weapons programs after leaving the White House: "If he did take them codes, it was just to protect the American people, to keep them out of the evil, dangerous hands of Joe Brandon [Biden]. You think it's safe to let Papa Long Hugs hold the launch codes? I don't think so. Let's say he falls off his bike and he goes to hit his Life Alert and instead of calling for help he accidentally punches in up, up, down,down. . . and the next thing you know you've got a missile shoved up your ass."
Comedian Tyson Cox was raised on a farm in Illinois where, he said, "there are a lot of dudes" like Terhune's Alpha Male. He has known Terhune for eight years and admires the sharpness of his parody. "Anyone who does political material is very brave. It's a hot button thing. Brent is hitting it and hitting it. It riles people up and makes them watch. It's a lot smarter than people think."
Terhune dropped his first Alpha Male video, "Redneck Burns Nikes," in reaction to then-San Francisco 49ers quarterback Colin Kaepernick taking a knee in 2016 during the national anthem to protest racism. The clip was shot in Terhune's mother's unmown backyard with the view of a trailer. It shows Alpha Male torching a pair of Nike shoes— the company endorsed Kaepernick— while, as if oblivious to the point he's trying to make, wearing a newer pair of Nikes and an American flag shirt.
"He didn't sacrifice nothing," Alpha Male says of Kaepernick. "All he did was use his celebrity status to shine light on an injustice in our world all the while doing it in a peaceful and nonviolent way. And I've chosen to take that message and completely misinterpret it."
Terhune's stand-up comedy is observational, self-deprecating and unassuming, much like the Prius he drove before a storm toppled a tree on it. His Alpha Male character, which he refined during COVID isolation, has not subsumed his act, but it has become a force that moves the algorithm: "If I didn't do the character it'd be like if Metallica didn't play my favorite song," said Terhune, whose name is often on the marquee at clubs. "You got a babysitter. You paid to park. Maybe for a lot of people with kids, that's their one night out for a month or sometimes more. I want you to leave the show thinking, 'That was worth our time.' "
Living with an alternate personality fits a man who has devoted a room in his house to wall-to-wall dolls, figurines, statues and carvings of characters from horror films, including Leatherface, Jason Voorhees, Hannibal Lecter and Michael Myers. They are all tricks of the mind, unhinged souls who turned into something frightful that spoke to America's subconscious anxieties like the 1950s Cold War fears that delivered "Creature from the Black Lagoon" or the "Saw" and "Hostel" franchises released during the Iraq and Afghan wars.
"When I'm on the road I look for toy stores to add to the collection," said Terhune, who hosts a podcast called "They're Coming to Get You."
"I love horror movies. They're really about who we are. I shot a film during COVID. It's called 'Shelter in Place.' It's about paranoia and isolation, kind of like 'The Shining.' "
His Alpha Male is a reflection of the disaffected now, a man overwhelmed by the relentless rearranging of his world. It's hyperspeed and crescendo. The nation's divisive politics, Terhune said, is "not going away, which is a scary thought. There's always going to be room for that [Alpha Male] guy." He added that even though he loves professional wrestling, "sometimes the guys stay too long and their bodies age out. I don't want to let that happen."
His wife said he has made Alpha Male "accessible to other people. I tend to think in Indiana there's a few more people that probably act like that, but everybody knows somebody who acts like that. It's relatable. It could be your grandpa or your uncle."
The other day, Terhune drove through the neighborhoods and streets that shaped him "from a quiet, nervous, shy kid" into a teenager who went to a high school with a cursing nun teacher and started his comedy career at a "coffee house" in the school library. It was a childhood, he said, of raffle tickets, carnivals and Mayfests, and later of hard times, notably when his brother, who practiced comedy with him, died at 30 after a long struggle with alcohol.
He moved out of his mother's house four years ago; married and bought his own place, a home with swinging saloon doors, a 70-inch TV screen, grass that needs tending and a cat that scratches visitors. He spent hours during COVID walking in a park near a cornfield in a state where in the early 1900s the Ku Klux Klan controlled many businesses and elected officials. He thought about the country's anger, prejudice and the way the news batters more than enlightens. His Alpha Male — inspired in part by angry men posting videos shot in their pick-ups — found his voice amid steeples and Blue Lives Matter flags.
"That character taught me to use my face and body a bit more. I was a different performer coming out of COVID," said Terhune, adding that the internet has little appetite for subtlety, and it's best to make your point before the 30-second mark. "It's satire, but the stuff I'm commenting on — there's a lot of emotion and heat behind it."
He passed a house with a small box in the front yard that acted as a free pantry for those facing hard times. At another house, a flag read "Don't blame me, I voted for Trump."
He pulled out on a main road and drove past the Greenwood Park Mall.
"We heard the sirens that day," he said of the mass shooting.
He turned and headed north toward the city, mentioning how tragic and rich this land was for material.