As night falls, floodlights beam on astro turfs or levelled artificial grass turfs across Chennai where working professionals play night football. With some sporting arenas open as late as 2am, for these nightcrawlers, playing the game is like being in touch with their inner child that fell in love with the sport years ago.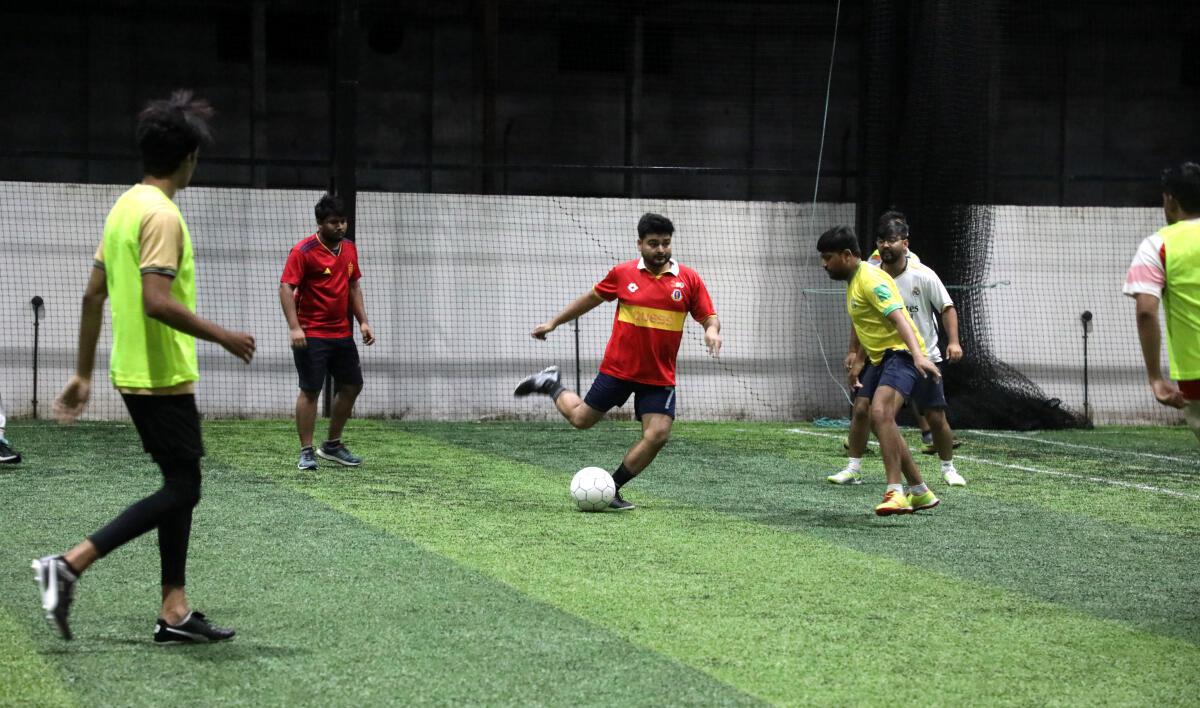 Ankur Das, Inspector of General Tax, moved to Chennai in the spring of 2023. Shortly after, he lost his father. Coping with grief and the rhythms of a new city, Ankur and his roommate Balaji Sukkala, a GST officer, would sit on their terrace framed against the indifference of the cityscape at night. 
Ankur remembers, "Balaji and I would spend hours on the terrace and ask only one question: what are we doing with our lives?"  
"I realised a lot of people must be feeling the same. So, Balaji and I decided to send a message on a Facebook group – enquiring about football enthusiasts who would like to meet up for friendly matches during the weekends,"  says Ankur.
"Since cricket requires a lot of people and an open space to play in, we decided to play football and the engagement to our post on Facebook was good," adds Balaji.
As Ankur's phone started buzzing with notifications, in a matter of months he was no longer spending his Sundays on the terrace. Now, the duo has formed a team of 52 recreational footballers who are navigating their lives with a zeal they thought was lost.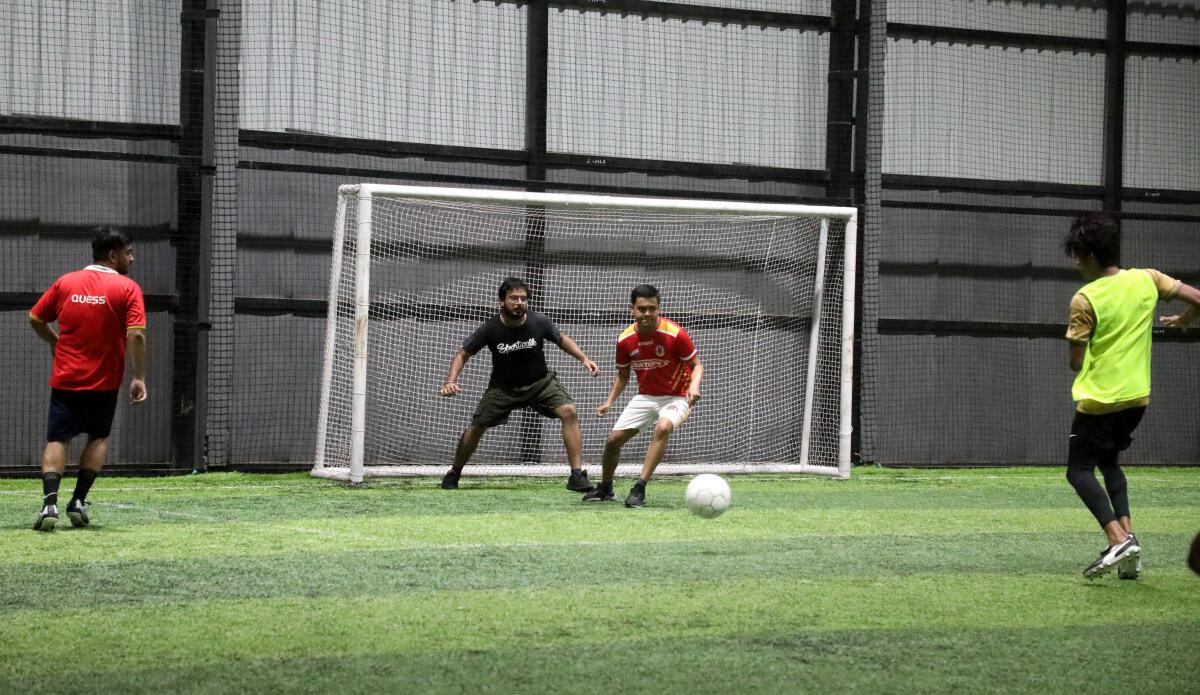 A sense of community 
Pratik Das works with TCS and has been living in Semmancheri for the last two years. The professional hails from Kolkata and says that upon arrival in the city he was eager to meet people from the Bengali community. He says, "I am a bachelor and don't know anyone in the city. So, a once-a-week football session cuts out the monotony. I used to play at Tavya Sports Park near my house but later I met with people from my community through a Facebook group where Ankur had put up a post inviting players to play. Playing with them and enjoying a post training adda (informal conversation) feels like home and creates a sense of cultural oneness."
On one such training session last Saturday, Pratik travelled 23 kilometres from Semmancheri to Sports Sanity in Ramapuram for a one-hour football match as rains lashed the city.  
Infrastructure and tech 
Guru Aditthya P, a derivatives trader at the stock market and a footballer at Turf 137 in Velachery says, "Football helps me to be present in the moment. They call it 'the beautiful game' because in each and every moment there is beauty. From making a pass to finding the angle to score, everything counts. Since we keep following European football, I think the last decade and a half has been a great era to live in as we get to see players like Messi and Ronaldo. " 
Talking about the rise in astro turfs in the city, Guru feels, "When we were in school and college, we used to play football on any empty ground. But the ground conditions were not conducive for play – they used to be dotted with potholes, undulations and rocks. But over the past seven years astro turfs are booming all over the city and it solves the problem of infrastructure," says Guru. He adds, "Apps like Playo allow you to book a slot of your choice on a turf near your location. It also allows you to look for more interested players. Say, you have three people with you and you need at least seven people to play a five a side game, other players in the app wait for people to host a game. So you can find fellow players and forge new friendships too." 
Software engineer and footballer Dhinesh S says that after the pandemic, football lovers who are also students and working professionals faced a sudden and rigorous jump back to old work patterns. He elaborates, "The lockdown interfered with our natural physical condition and agility. To get back to that some of us have taken to playing football at night on astro turfs across the city."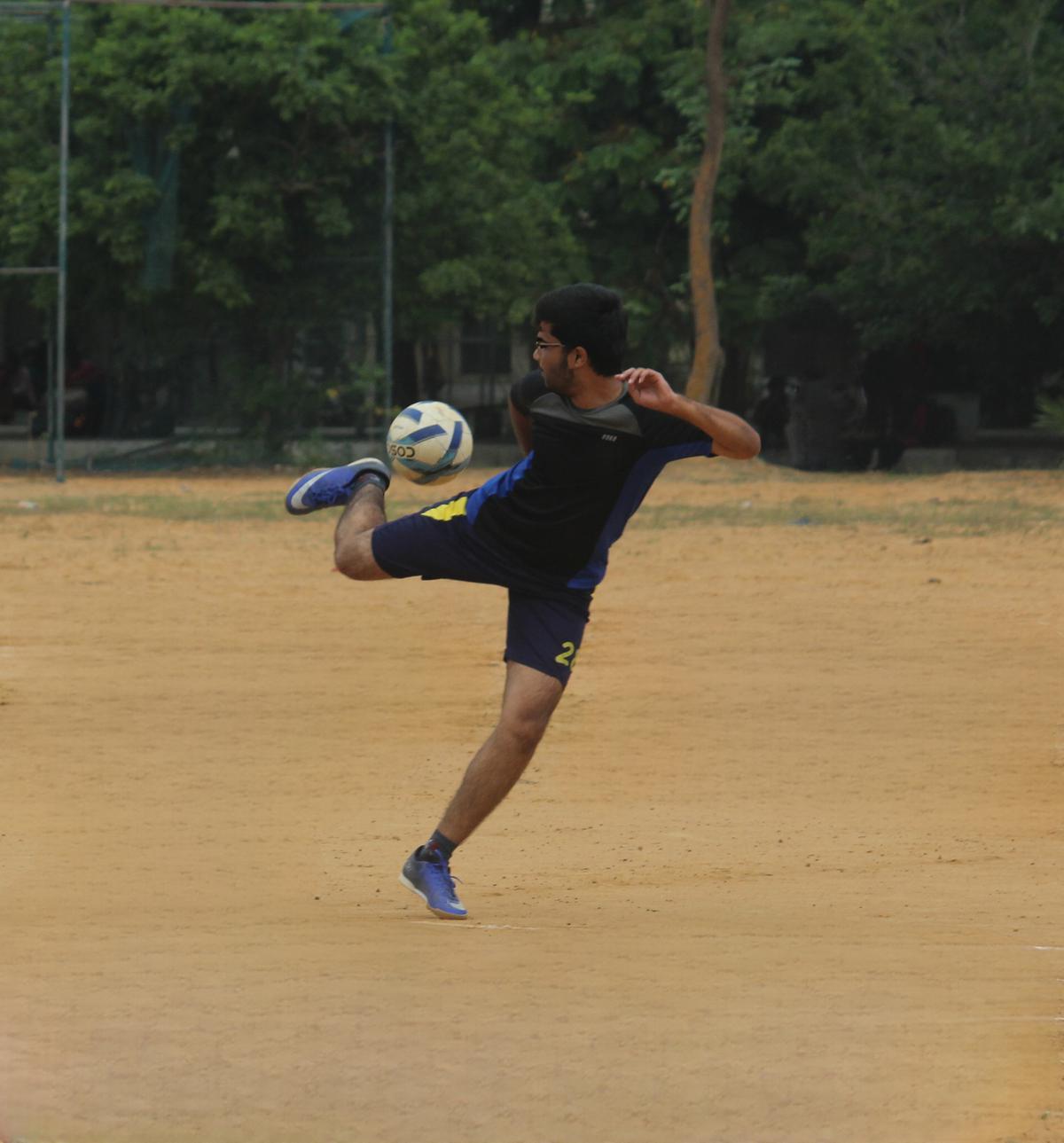 The app Turftown is a go-to for Dhinesh. He likes to identify a turf of his choice, select a slot, and make a pre booking on the day of his choice. Bookings are usually made five days beforehand.  
"For those of us who have nine to five jobs in the IT sector, it involves a lot of sitting around. In our younger days we used to stay back after college, play football in public places and Corporation grounds. Now, mornings are spent at work. To bring our physical selves back we need a release. That's what brings us here," says Dhinesh. Since his office is located at DLF Ramapuram, he walks around the block and plays at Sport Sanity in Ramapuram.  
 Making a difference 
Dhinesh says that football is a sport that builds confidence, form and rapport. "You have both hard and soft tackles with friends, sometimes you bleed on the field but you just rub it off and keep playing. Once you start working you have more responsibilities and it is difficult to get a slot for something you have been doing all your life. At the same time, you don't want to let down your passion. The perspective is to find the right balance," he states.
For speech-impaired footballer and student Tarun Venkataramani, football helps him deal with anxiety. "Because of my impairment I have struggled with low self-esteem but when I am playing I don't have to speak, I let my dribbles and passes do the talking," says Tarun who plays at Tiki Taka's turf in T Nagar.
Most sporting arenas in Chennai charge between ₹2,000 and ₹3,000 for a one-hour slot. Being a team game, players like to divide the cost among mates which makes booking a turf and revelling in the spirit of the game an affordable pastime. Other than football, sports like pickleball, badminton, cricket and futsal are also riding the growth in the city. As the city sleeps, lovers of the beautiful game continue to rage against the dying of the light.